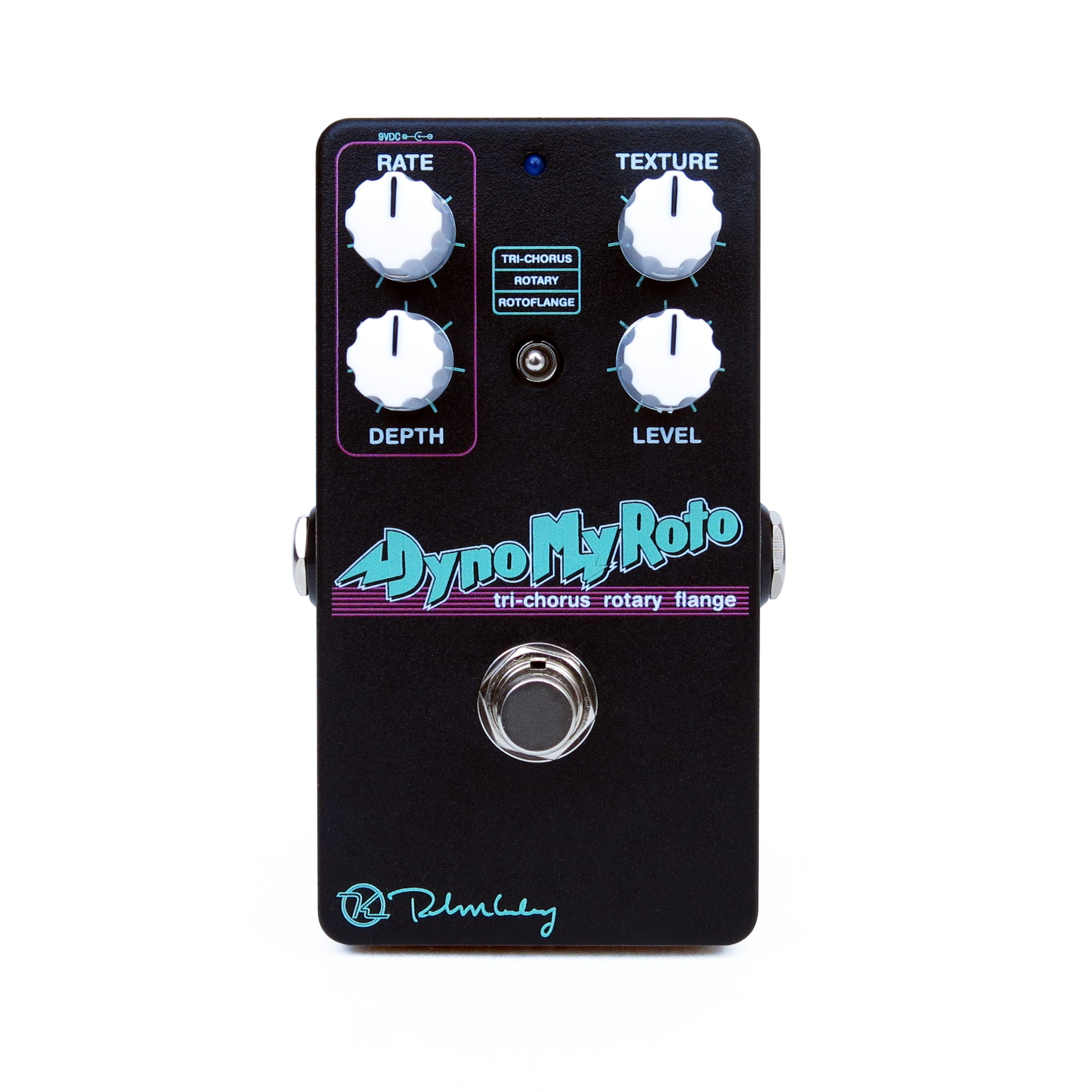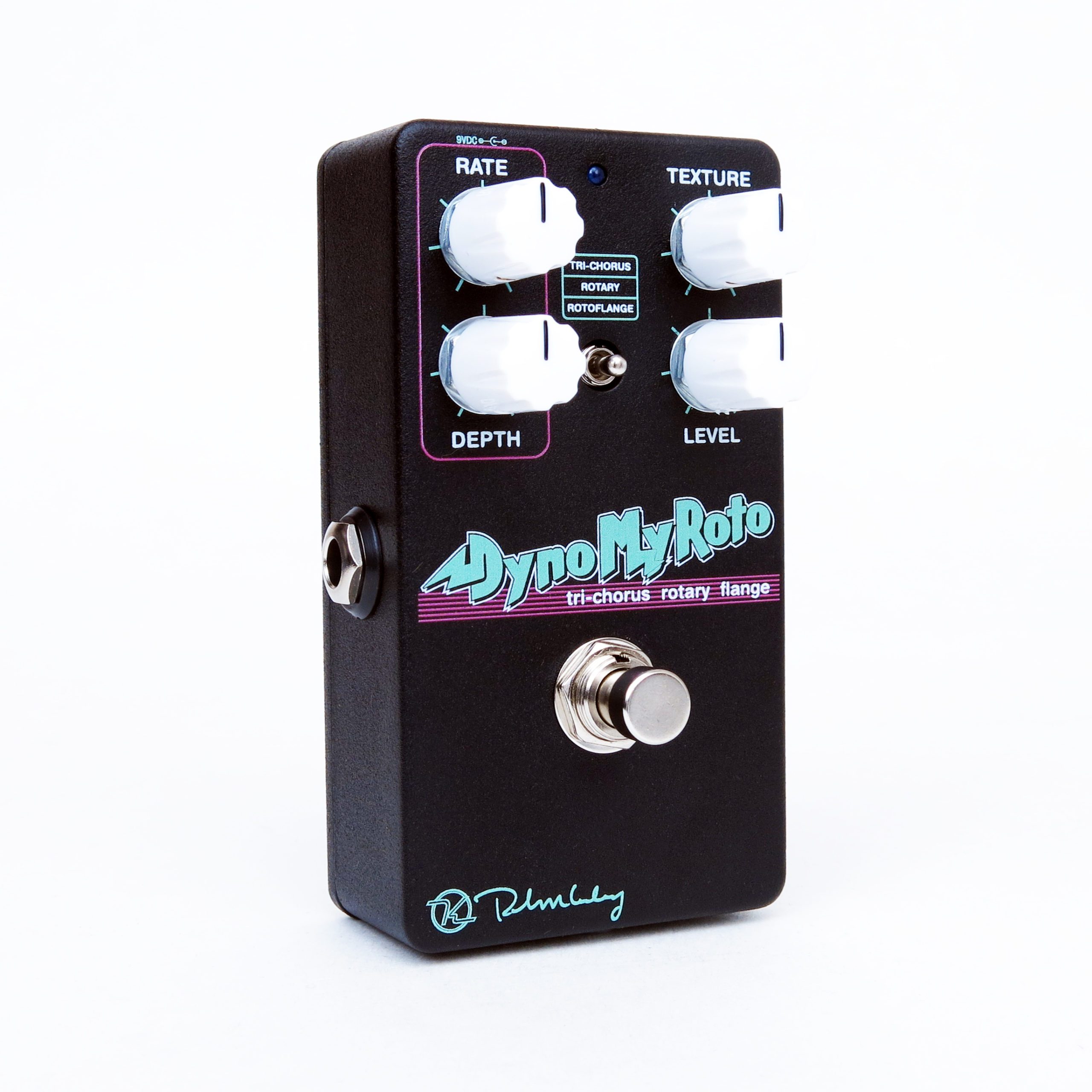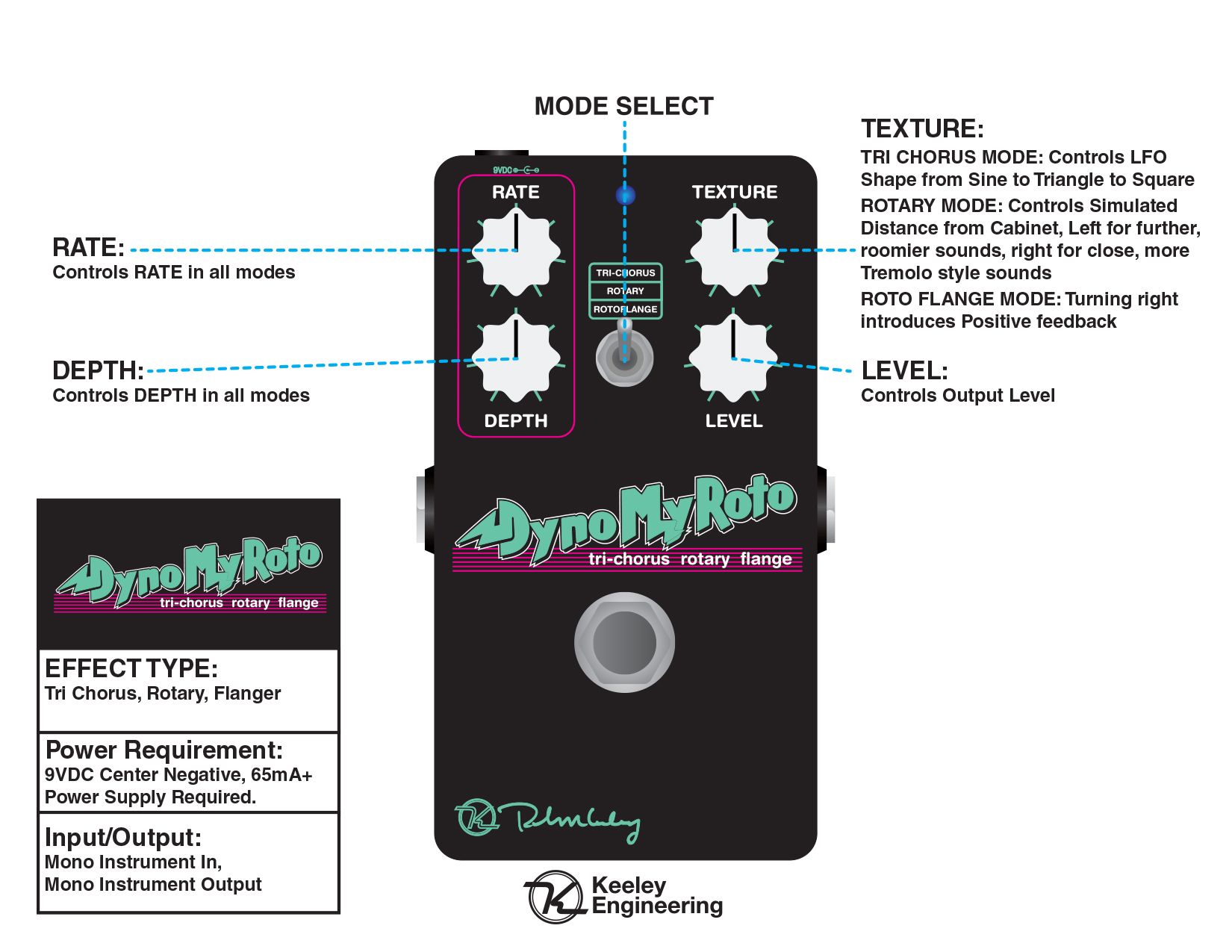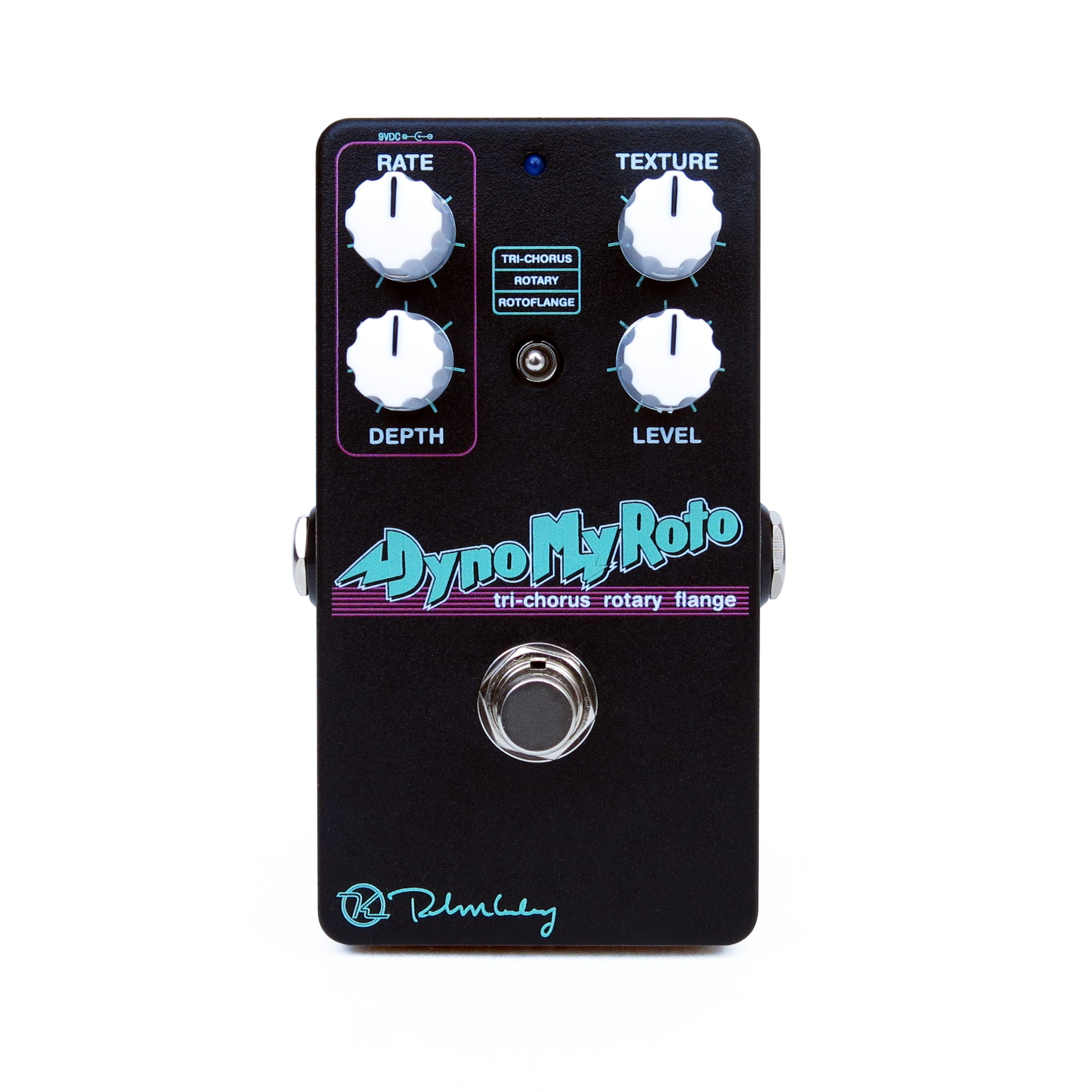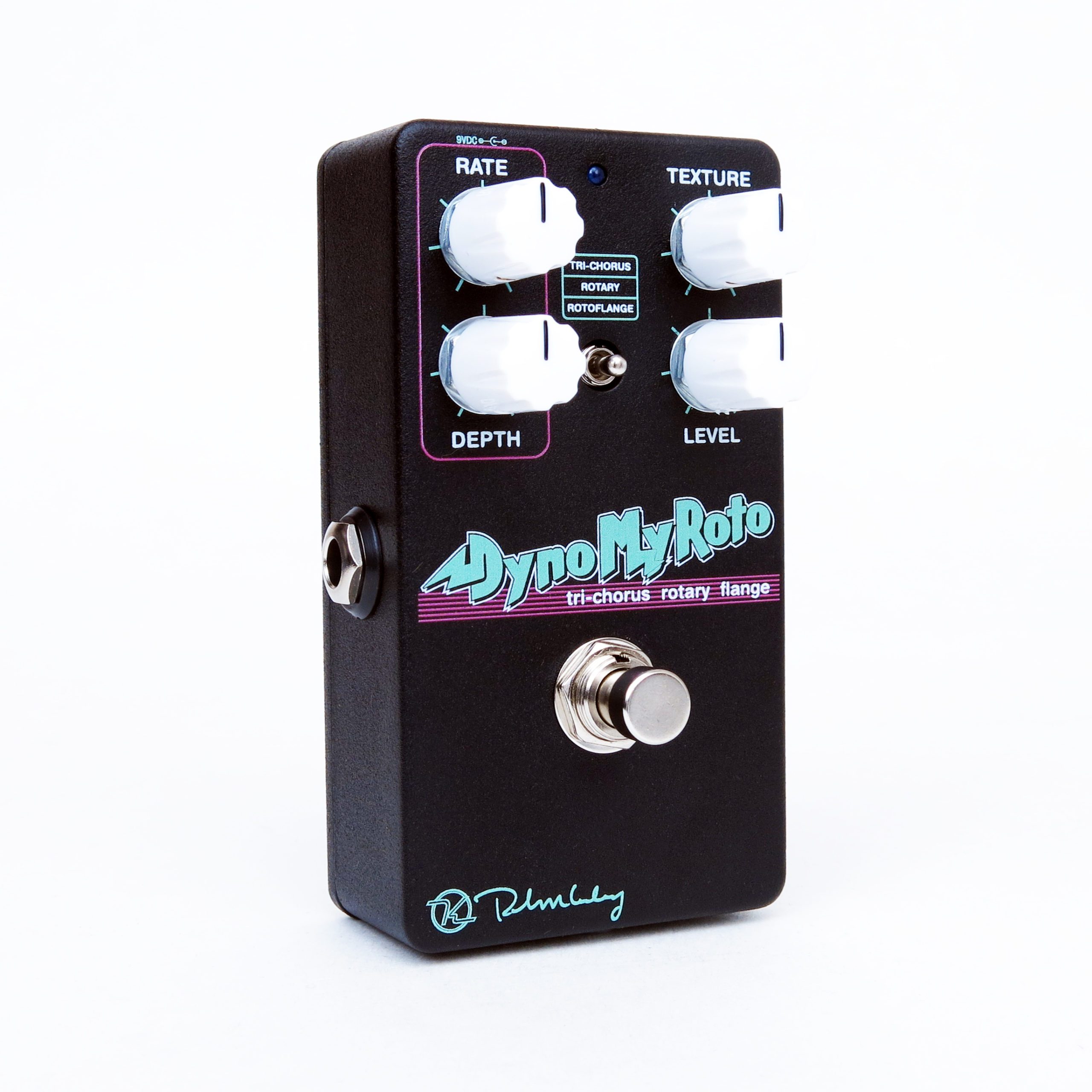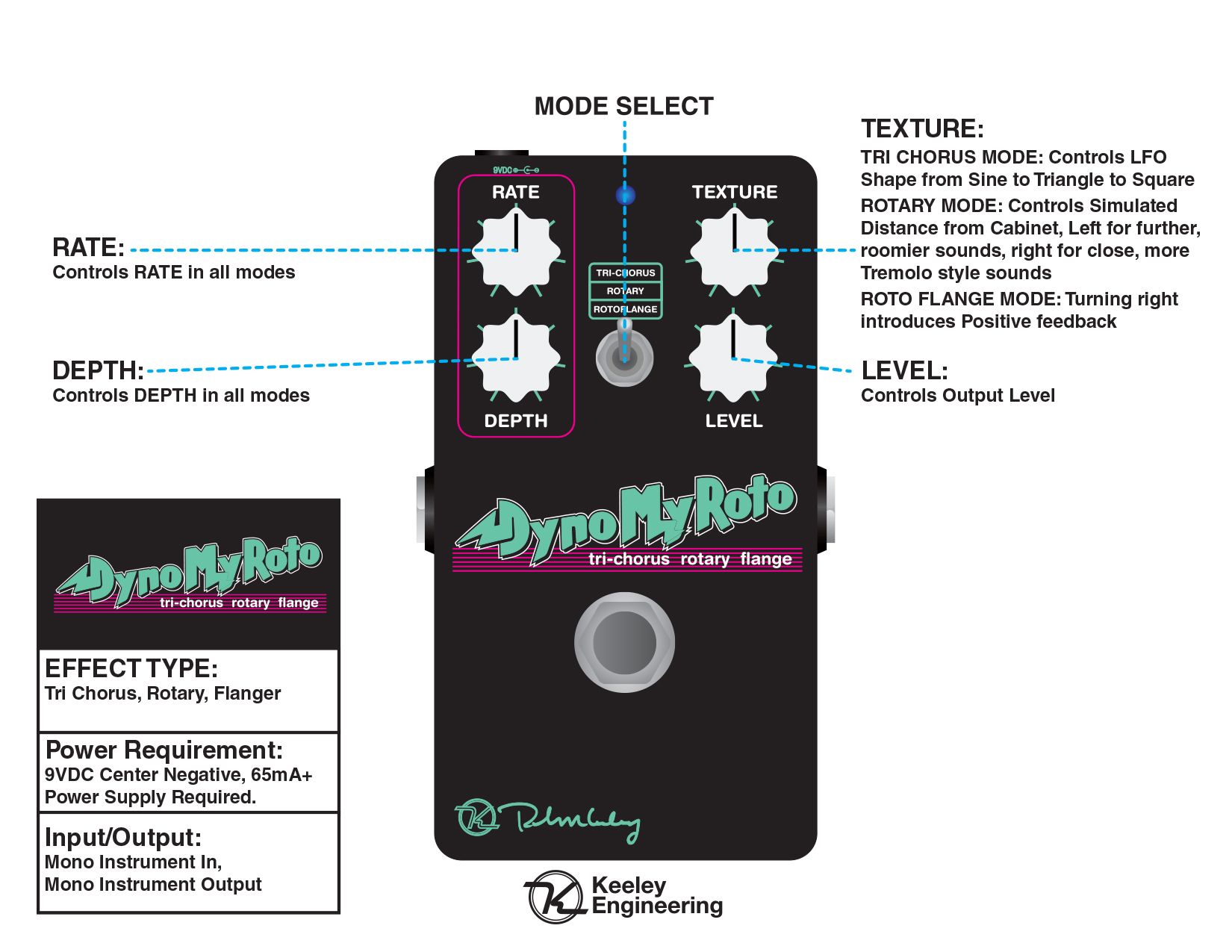 Keeley Dyno My Roto
You want tri-chorus in a pedal? The new Keeley Dyno My Roto!
Finally you can get those 80's vintage rack chorus sounds that define killer chorus sounds. We even added a Flanger and a Leslie Cabinet simulator!
The magic to the chorus sound in the Dyno My Roto is the three LFOs that give you lush modulations that truly sing out like a chorus of guitars. Most chorus pedals, in fact nearly all, are simply two voice, one straight and one modulated. This offers twice the amount of joy by modulating another voice. That significantly reducing the ability to just hear one voice being affected and smears a couple voices in an effect that is truly enjoyable to listen to.
We came up with a new Rotary Cabinet package that give you a Proximity Control. The Proximity Control controls how far away you are from the spinning speaker cabinet. This adds a depth and distance to the cabinet and is a touch like a reverb control. It gives you that spatial expanse that can give you presence or depth in the chorus-like rotations. Lastly, while we were spinning things, we crafted a RotoFlange sound that has a simple negative feedback control. Easy to use and gets you the most classic flanger sounds possible.
Rate, Depth, Texture, Blend, Tri-Chorus, Rotary, Rotary Flange
Click for info on shipping, taxes, returns, etc.
Shipping
We offer shipping in to the US and Canada. Each product should have its own shipping cost which will be calculated in your cart as you check out.  Some products are not available for shipping. Shipping times vary per product.
Pickup
You can purchase a product online and then pick it up at our store. You can come during our open hours, or you can schedule an appointment for pickup.
Returns
You can return any purchase if you notify us of the return within 7 days of purchase and have us the item back within 14 days of purchase. We do not pay for shipping to return the item. Upon receipt, we will inspect the item and determine if the condition has changed. If the condition has changed, the refund will be partial to reflect the change in value of the item.
Taxes
Purchases made in our store will have a retail sales tax of 7%. All products purchased on our website will be taxed according to the buyer's location. In-state sales will be taxed at their county-specific rates, and out-of-state purchases will not be taxed.
Layaway
The Local Pickup (TLP) offers layaway on sales of $400 or greater. Here are our layaway terms:
TLP requires a deposit from the buyer of one quarter (1/4) of the total sale cost (purchase price +5% layaway fee + taxes + shipping).
TLP establishes with the buyer a unique payment plan not to exceed 12 months in duration to pay the full amount due.
If a scheduled payment is seven business days late, TLP has the right to cancel the purchase.
If TLP cancels the purchase, TLP will refund any money paid by the buyer, except the deposit. The deposit is non refundable.
The buyer has the right to payoff the full amount and complete the purchase at any time.
The buyer has the right to make extra payments toward the amount due.
Once the purchase is completed (all due money paid in full), the guitar will be delivered either via shipping or scheduled pickup.
Product Features
Rate, Depth, Texture, Blend, Tri-Chorus, Rotary, Rotary Flange