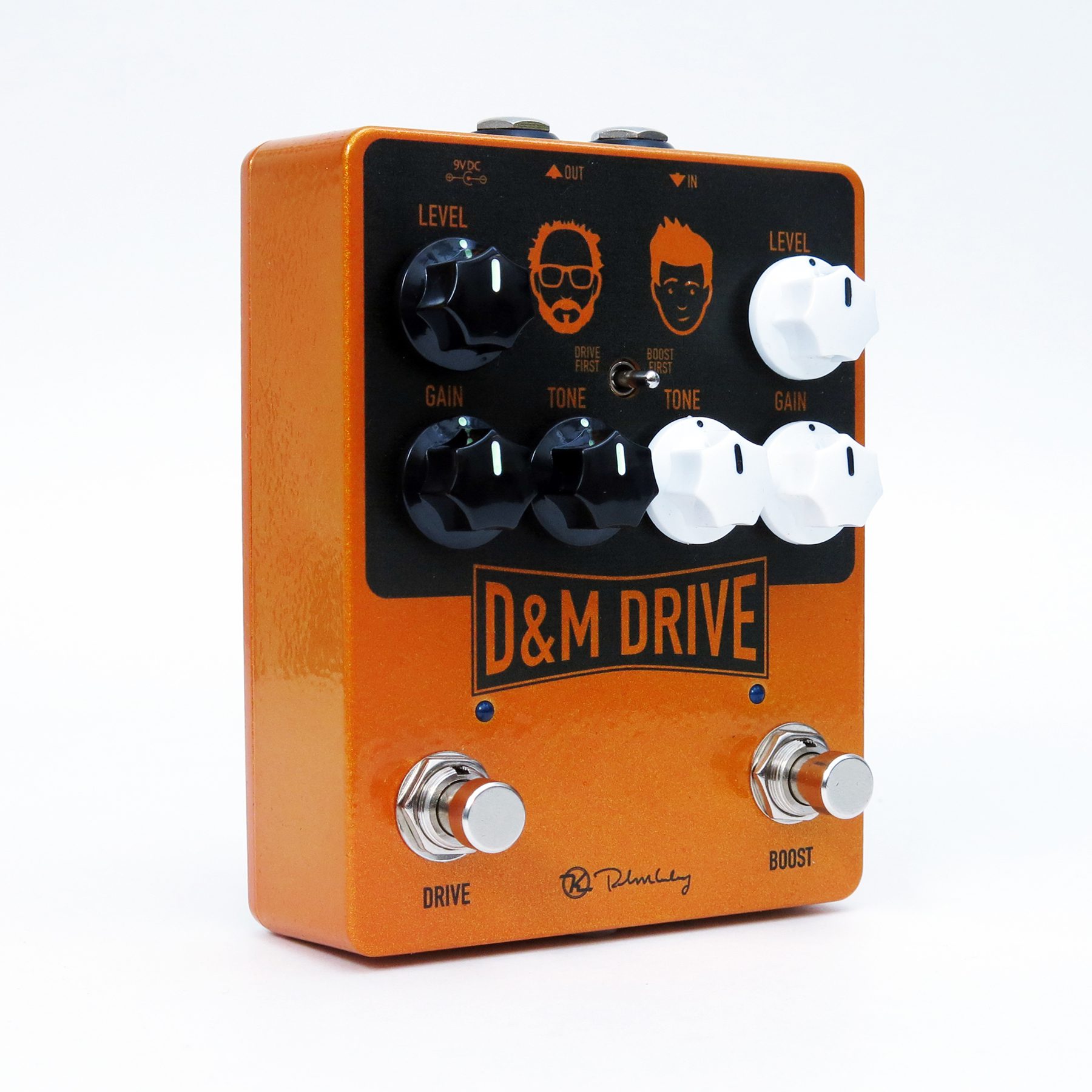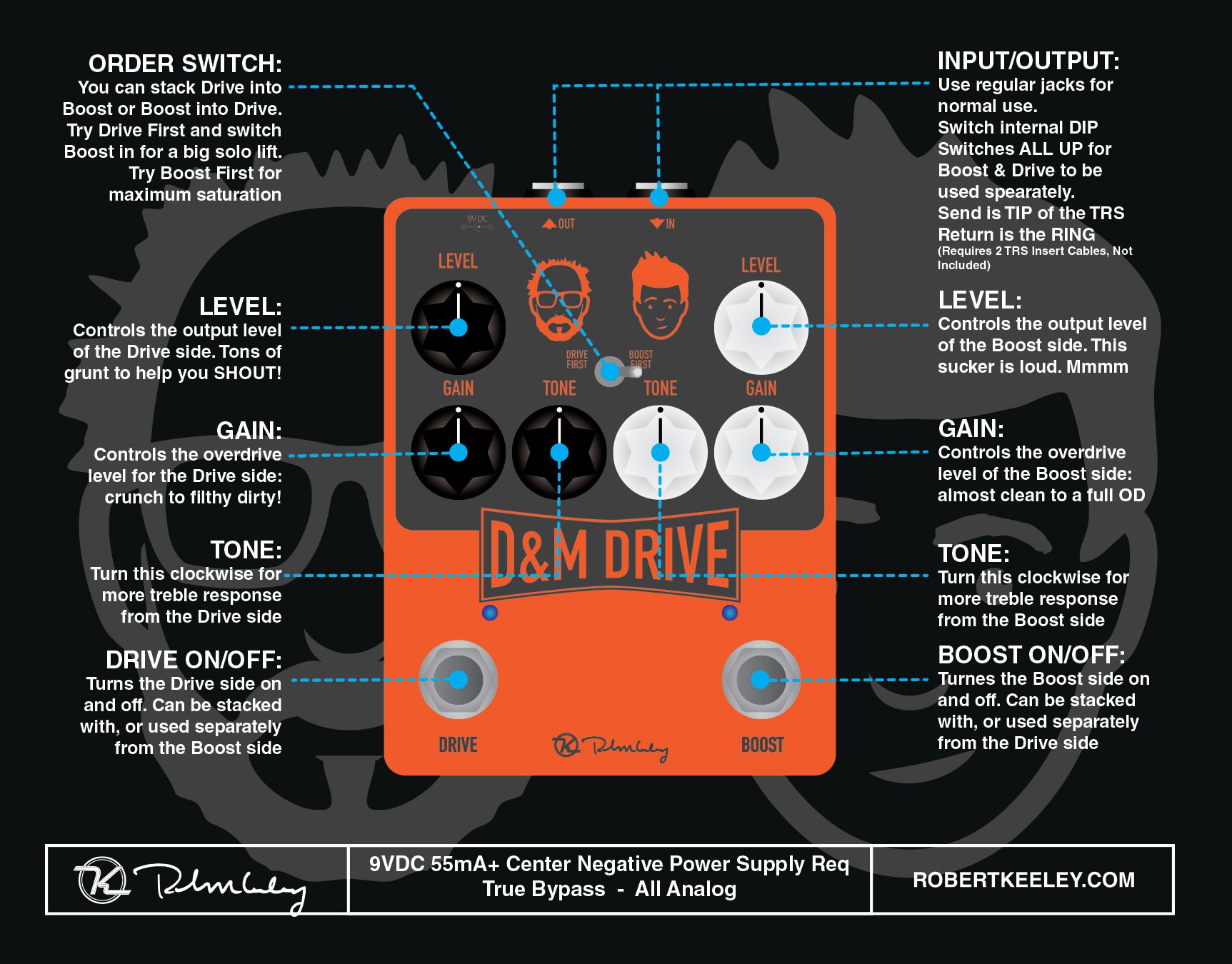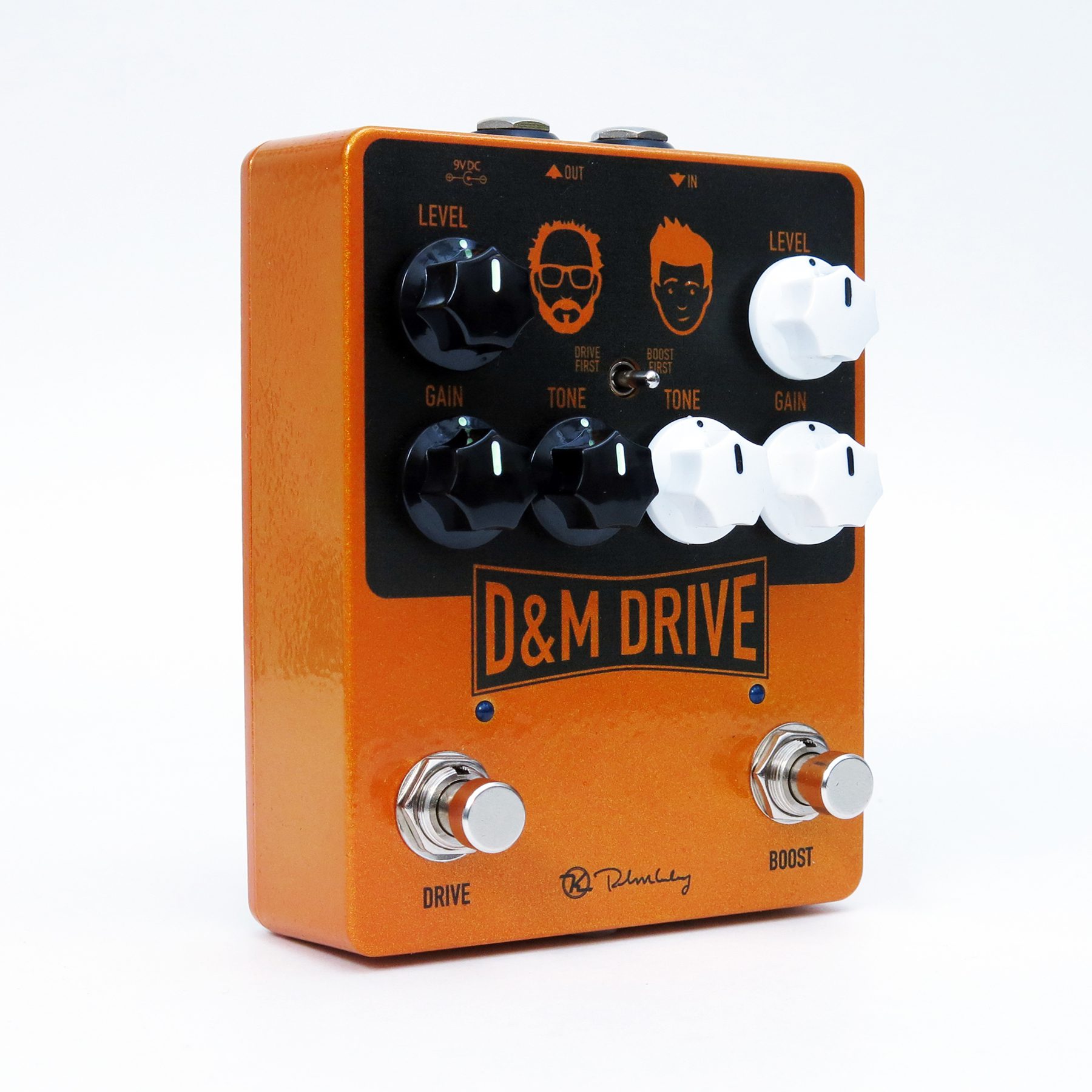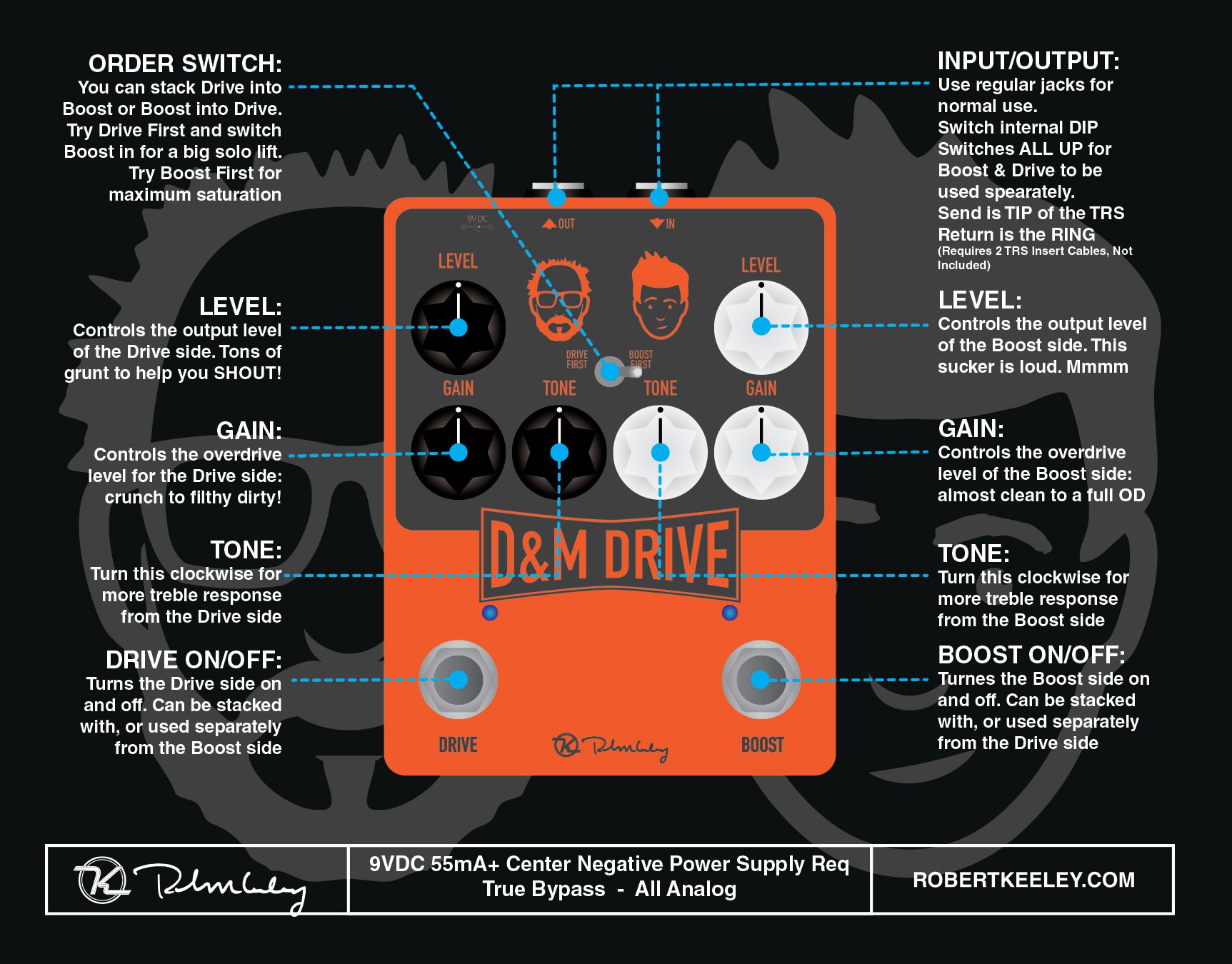 Keeley D&M Drive
That Pedal Show's D&M Drive
The D&M Drive is the perfect storm of Drive and Boost. The D&M offers a gorgeous sounding high voltage Boost side designed to impart the perfect tone on any amp that needs to be pushed. No longer will you wonder what the perfect clean boost should be. As you roll things up, the drive morphs your tone into singing gold. A sexy and smoothly saturated midrange voice appears that breathes confidence. The Drive side offers everything you'd want in a powerful gain stage. From flat honest overdrive perfect for any set of chords to searing hot lead work with tons of sustain. The Drive is the perfect counterpoint to the Boost. Not only does each side of the pedal provide rewarding guitar tones, they can be used to stack together for an out-of-world experience. The pro switching system developed for the D&M Drive allows you to select which side of the pedal comes first and in fact you can configure the pedal to work in a pro-switching system like the G2 for independent pedal use!
Click for info on shipping, taxes, returns, etc.
Shipping
We offer shipping in to the US and Canada. Each product should have its own shipping cost which will be calculated in your cart as you check out.  Some products are not available for shipping. Shipping times vary per product.
Pickup
You can purchase a product online and then pick it up at our store. You can come during our open hours, or you can schedule an appointment for pickup.
Returns
You can return any purchase if you notify us of the return within 7 days of purchase and have us the item back within 14 days of purchase. We do not pay for shipping to return the item. Upon receipt, we will inspect the item and determine if the condition has changed. If the condition has changed, the refund will be partial to reflect the change in value of the item.
Taxes
Purchases made in our store will have a retail sales tax of 7%. All products purchased on our website will be taxed according to the buyer's location. In-state sales will be taxed at their county-specific rates, and out-of-state purchases will not be taxed.
Layaway
The Local Pickup (TLP) offers layaway on sales of $400 or greater. Here are our layaway terms:
TLP requires a deposit from the buyer of one quarter (1/4) of the total sale cost (purchase price +5% layaway fee + taxes + shipping).
TLP establishes with the buyer a unique payment plan not to exceed 12 months in duration to pay the full amount due.
If a scheduled payment is seven business days late, TLP has the right to cancel the purchase.
If TLP cancels the purchase, TLP will refund any money paid by the buyer, except the deposit. The deposit is non refundable.
The buyer has the right to payoff the full amount and complete the purchase at any time.
The buyer has the right to make extra payments toward the amount due.
Once the purchase is completed (all due money paid in full), the guitar will be delivered either via shipping or scheduled pickup.
That Boost
Looking for something in between a clean boost like the high voltage Keeley Katana and a germanium modded professional overdrive? The D&M Drive delivers insane amounts of headroom and a distinct midrange voice can be dialed in to give you the lead voicing you dream of. Dialed in to give you the punch and clarity of a horn yet subtle and smooth in saturation to give you warm overdrive and tons of sustain. Expect it to work well with any amp or rig.
That Drive
Multiple Gain Stages are where it's at. This delivers. From a its lowest settings where you feel like you've discovered the perfect pro sounding overdrive to the roar of a high end amp. This side of the D&M packs a heavily saturated punch. The headroom on this side of the pedal is no slouch, use it to find that delicate balance between drive and amp saturation for the core of your tone. Turn up the Drive to give you a dynamic and searing tube-like gain that excels in sustain. Designed for quick attack with plenty of high and low end. Rich harmonic gain and sustain with dynamics is what this side offers.
The Switching
Daniel Steinhardt from TheGigRig insisted that this was a versatile dual gain box that wasn't limited in any way with its two simple stomp switches. You Select The Order! A simple toggle allows you to configure the pedal so that when both the Drive and Boost are on you decide which is first. If you want to have a smooth and round tone go into a richly driven amp-like gain stage….or if you want a highly driven tone with edge and harmonics to be then boosted with clarity and refinement, it's your choice. Not only that, but Daniel had the engineers incorporate his idea for TRS insert cables so that this pedal would easily integrate into a professional switching system like the G2. Now pedal board designers can configure the D&M Drive to act as two independent pedals, switching between either side of the pedal as it were its own stand alone effect.