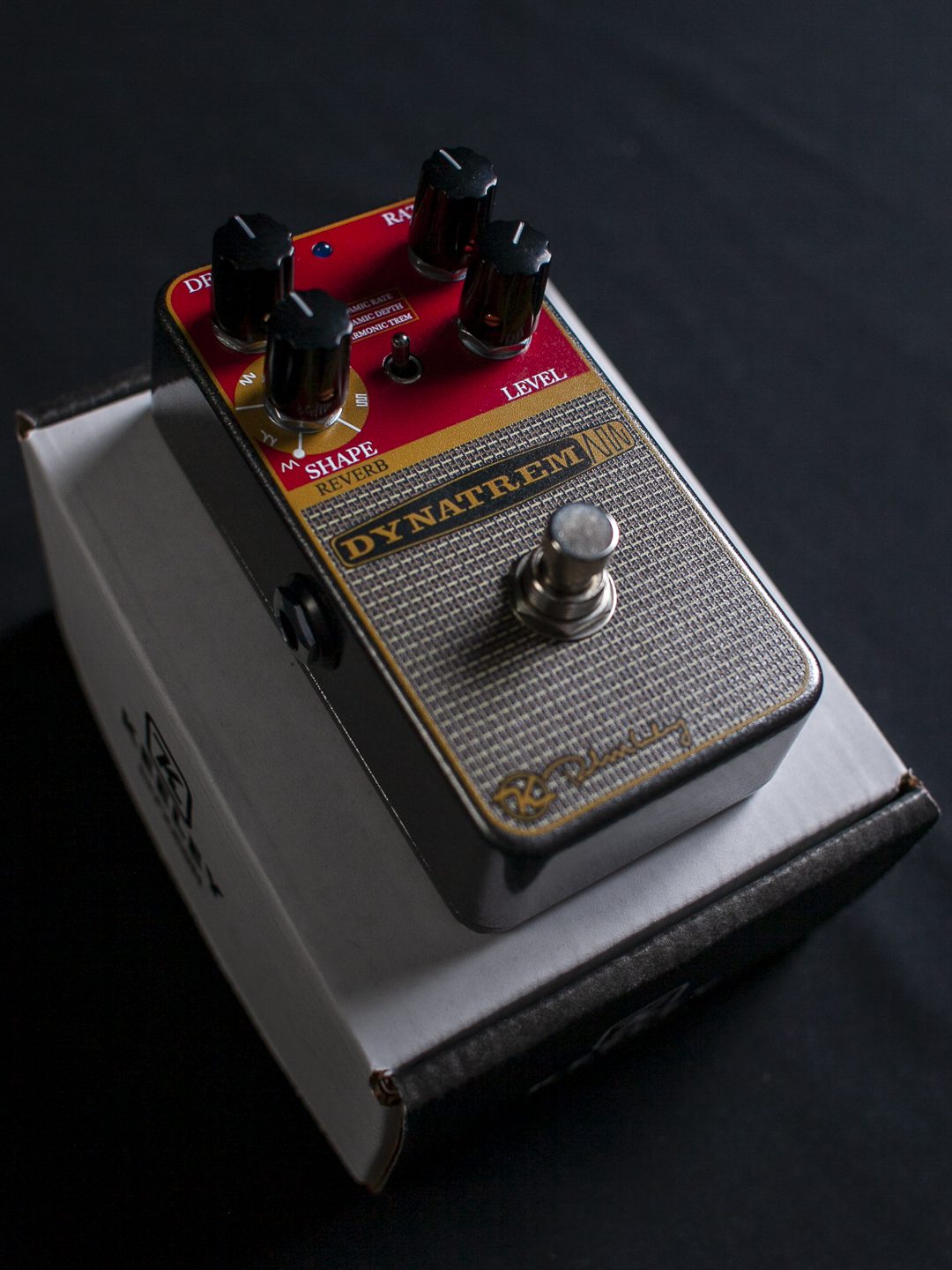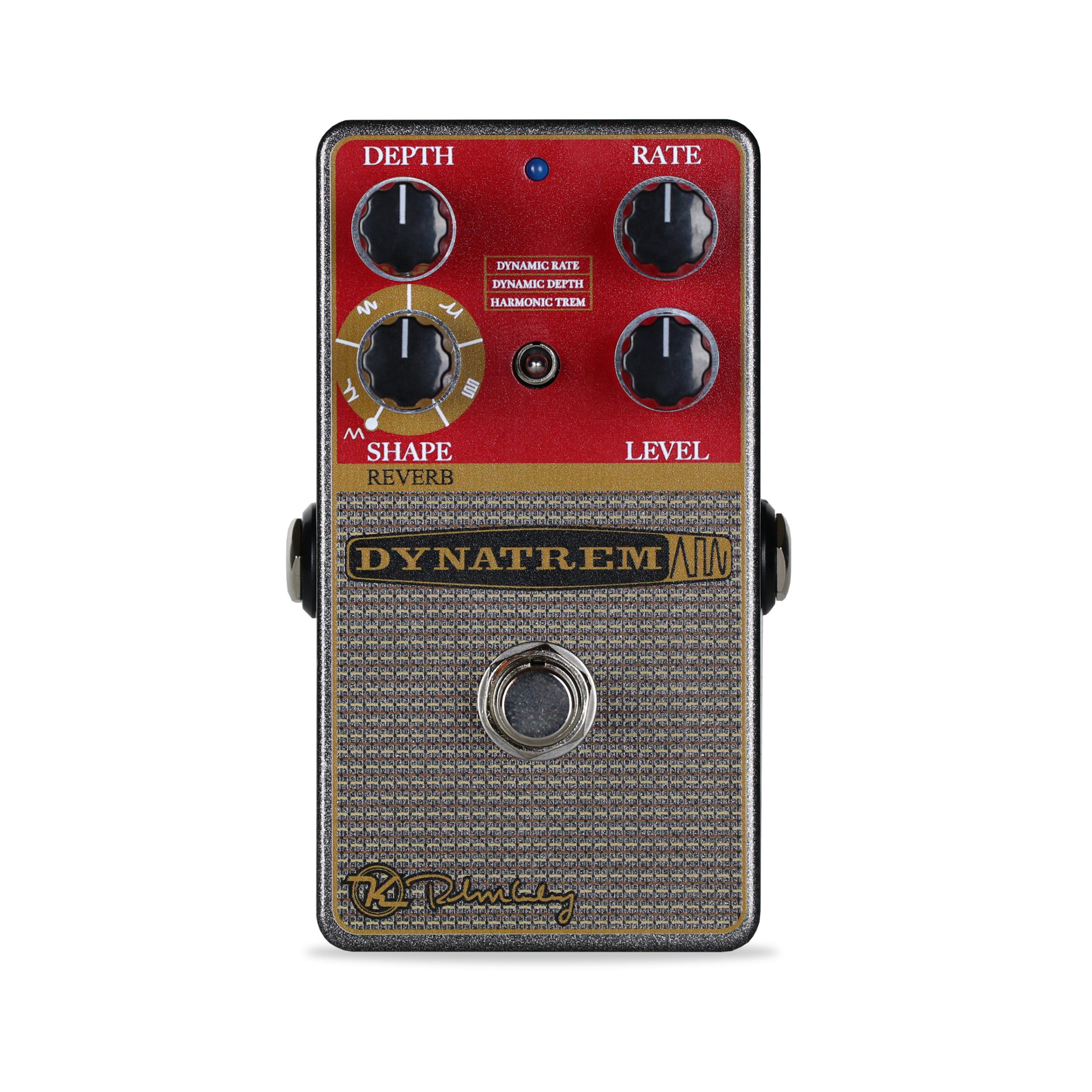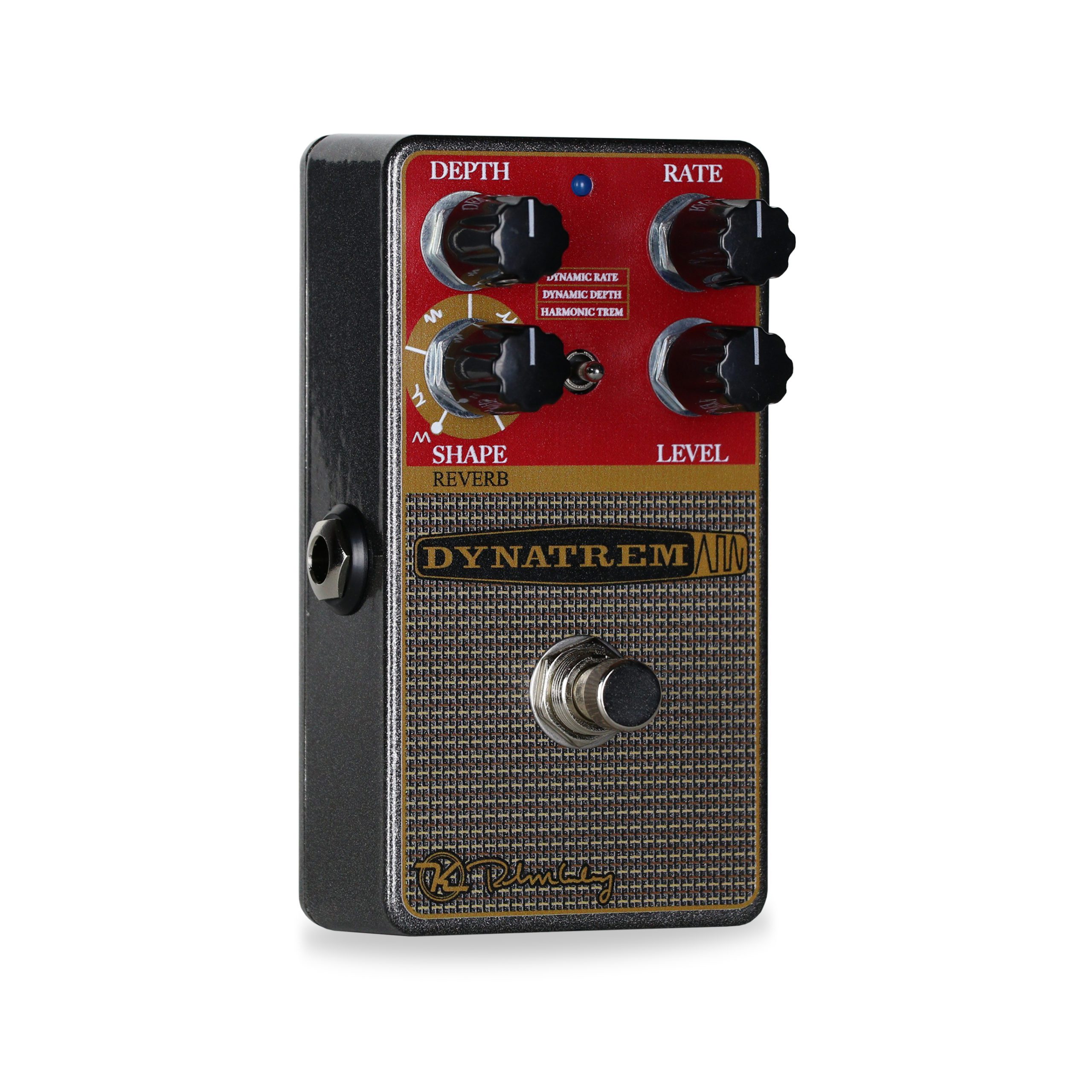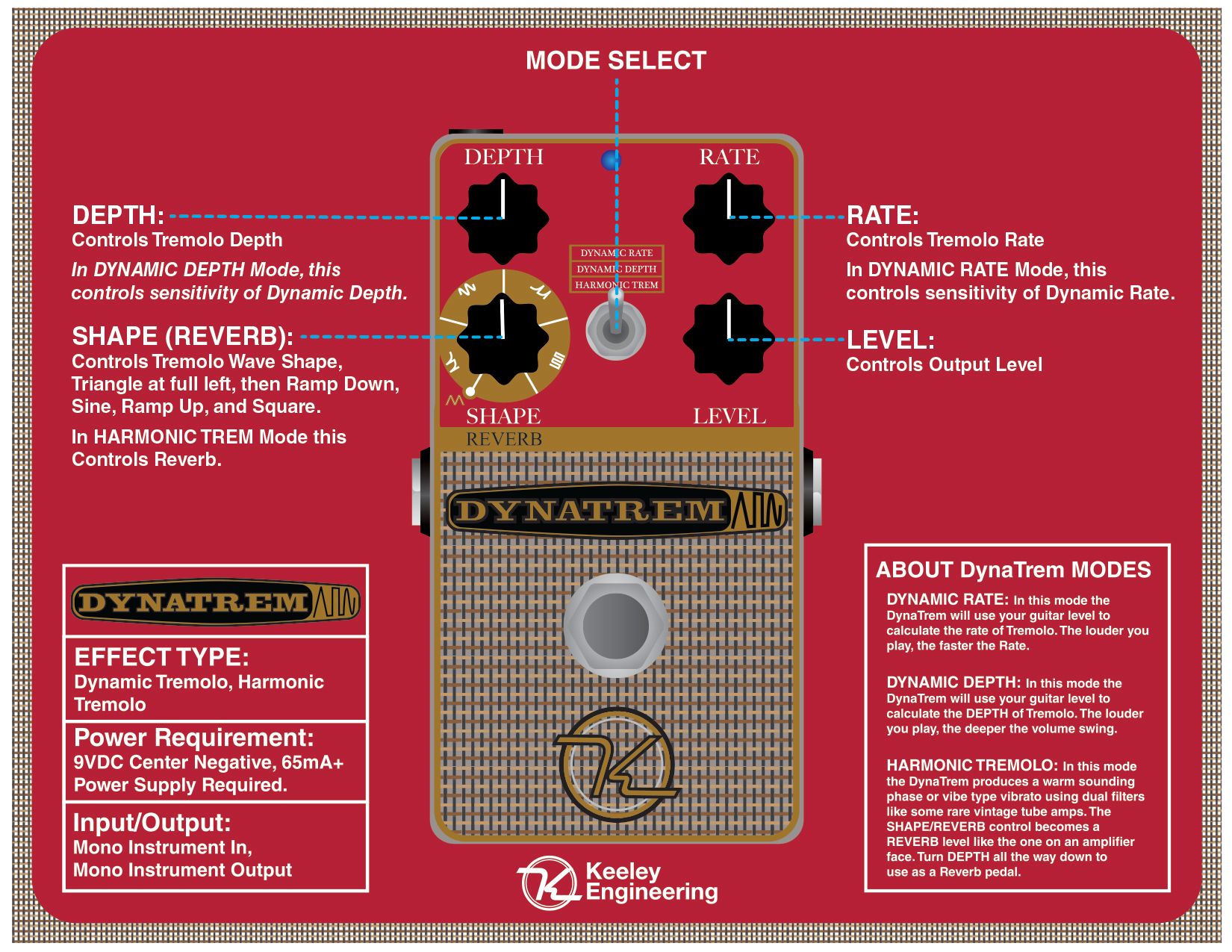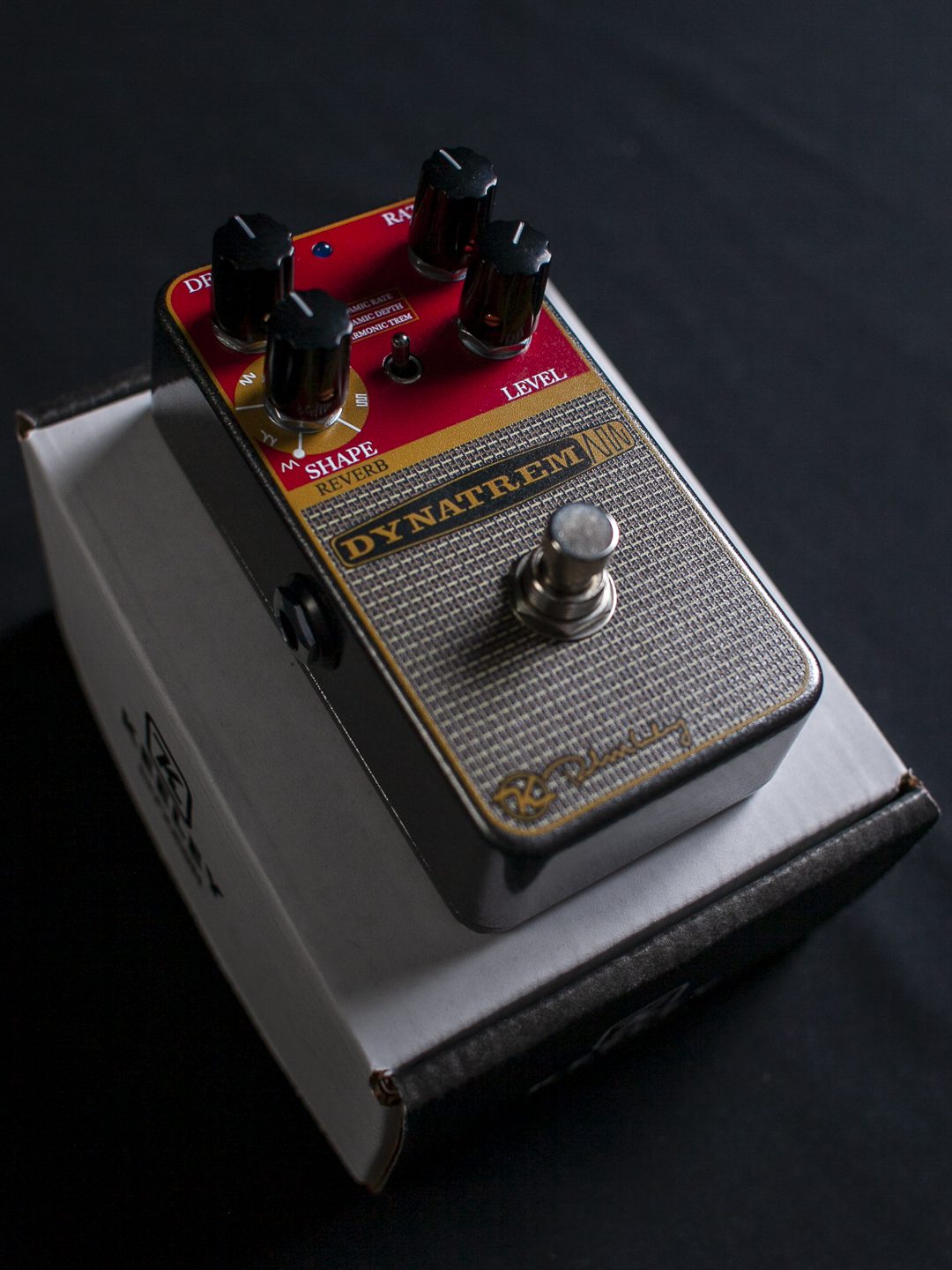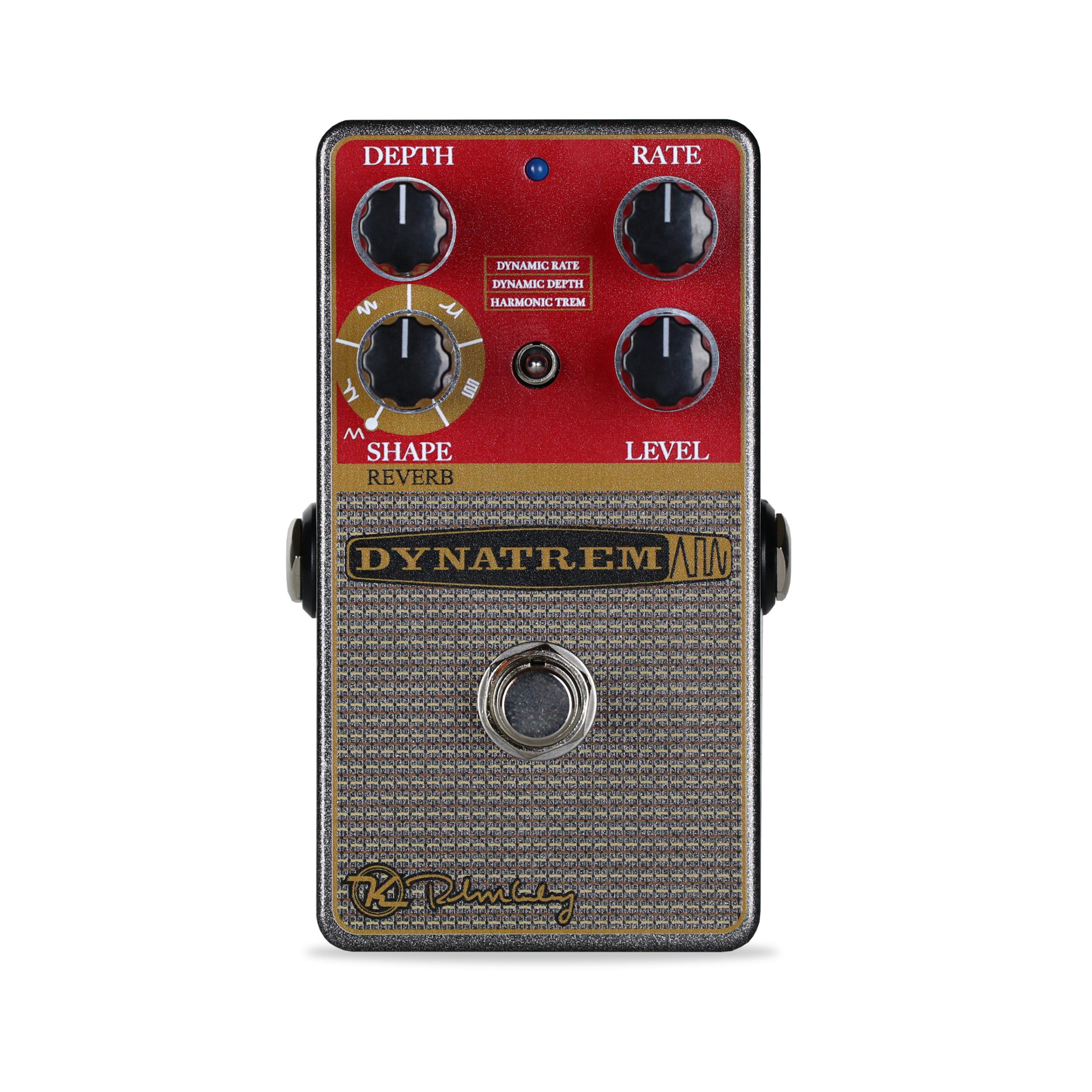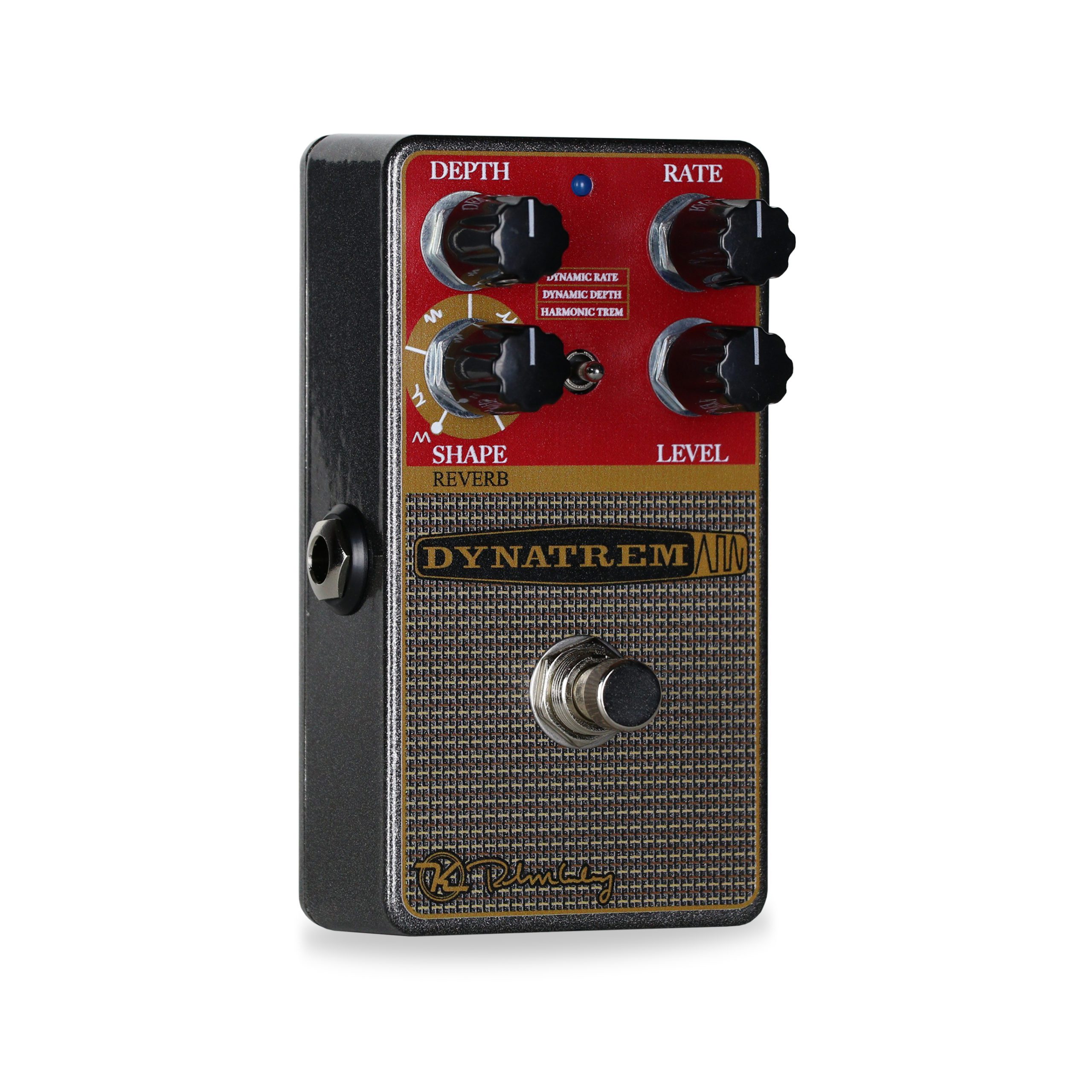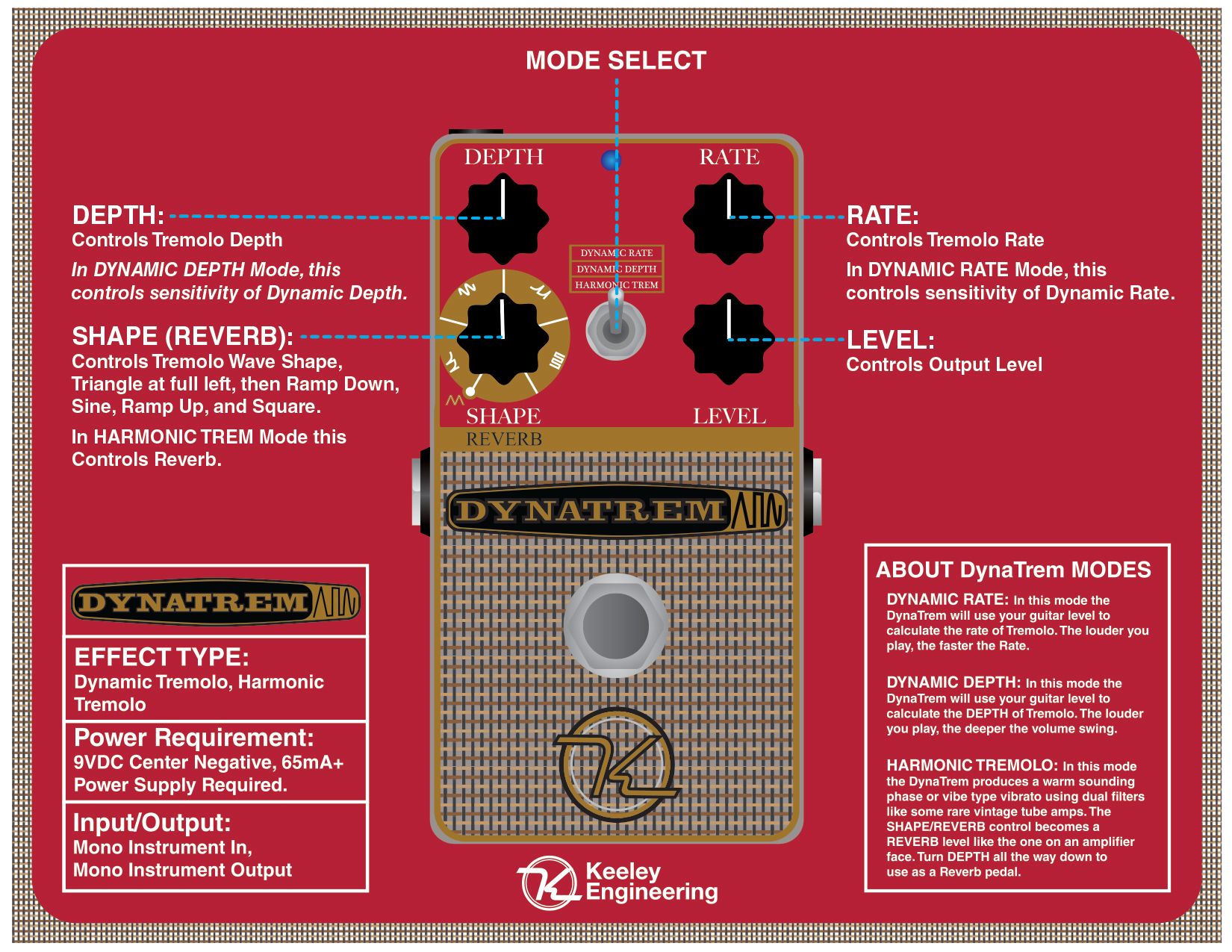 Keeley DynaTrem Dynamic Tremolo and Reverb
Easily our most addictive Vibe tone!
The DynaTrem Dynamic Tremolo by Keeley Engineering is an all new type of tremolo that is dynamic and responsive to your playing. Your playing controls the Rate and Depth. The harder you play, the more it responds. Play softly and it relaxes. Set the sensitivity with Rate or Depth controls and you have an unparalleled ability to be expressive with your guitar and tremolo.
Click for info on shipping, taxes, returns, etc.
Shipping
We offer shipping in to the US and Canada. Each product should have its own shipping cost which will be calculated in your cart as you check out.  Some products are not available for shipping. Shipping times vary per product.
Pickup
You can purchase a product online and then pick it up at our store. You can come during our open hours, or you can schedule an appointment for pickup.
Returns
You can return any purchase if you notify us of the return within 7 days of purchase and have us the item back within 14 days of purchase. We do not pay for shipping to return the item. Upon receipt, we will inspect the item and determine if the condition has changed. If the condition has changed, the refund will be partial to reflect the change in value of the item.
Taxes
Purchases made in our store will have a retail sales tax of 7%. All products purchased on our website will be taxed according to the buyer's location. In-state sales will be taxed at their county-specific rates, and out-of-state purchases will not be taxed.
Layaway
The Local Pickup (TLP) offers layaway on sales of $400 or greater. Here are our layaway terms:
TLP requires a deposit from the buyer of one quarter (1/4) of the total sale cost (purchase price +5% layaway fee + taxes + shipping).
TLP establishes with the buyer a unique payment plan not to exceed 12 months in duration to pay the full amount due.
If a scheduled payment is seven business days late, TLP has the right to cancel the purchase.
If TLP cancels the purchase, TLP will refund any money paid by the buyer, except the deposit. The deposit is non refundable.
The buyer has the right to payoff the full amount and complete the purchase at any time.
The buyer has the right to make extra payments toward the amount due.
Once the purchase is completed (all due money paid in full), the guitar will be delivered either via shipping or scheduled pickup.
Tone Trio – Three Modes
Dynamic Rate – Your playing strength controls the Rate. The harder you play, the faster it modulates! Relax and play softly and the tremolo almost stops.
Dynamic Depth – Play gently and it just barely throbs. Play aggressively and it and pulse hard and deep.
Harmonic Tremolo + Reverb Mode. Yes that phaser/vibey, soulful and sweet sound! We have crafted our own circuits to give you a sound that is sinfully good. Slippery and smooth, you won't want to gig without it. Add Reverb by adjusting the SHAPE control
Wave Table
With a spin of the SHAPE control you get 4 wave-forms: Ramp Up, Sine Wave, Ramp Down, and Square Wave.
4th Mode! All DynaTrems after serial number 300 have a hidden feature mode: Stadard Tremolo Turn the Shape knob all of the way down and it become a standard triangle wave tremolo in the Delta Rate or Delta Depth modes. Call us for a free upgrade if yours does not have this feature.
Or, when in Harmonic Tremolo Mode the Shape control is Reverb!
Other Features
Integrated noise reduction – developed with the code to reduce noise swells common with tremolo circuit, you get the quietest effect possible.
Output Volume Control – Can be set for a boost for stand out effect.
True-Bypass – No tone loss when off
Battery Free – Any standard 9 volt, negative tip power supply will work, like a Voodoo Lab Pedal Power II. 60mA or greater.
Keeley Engineered – Decades of audio experience and design.