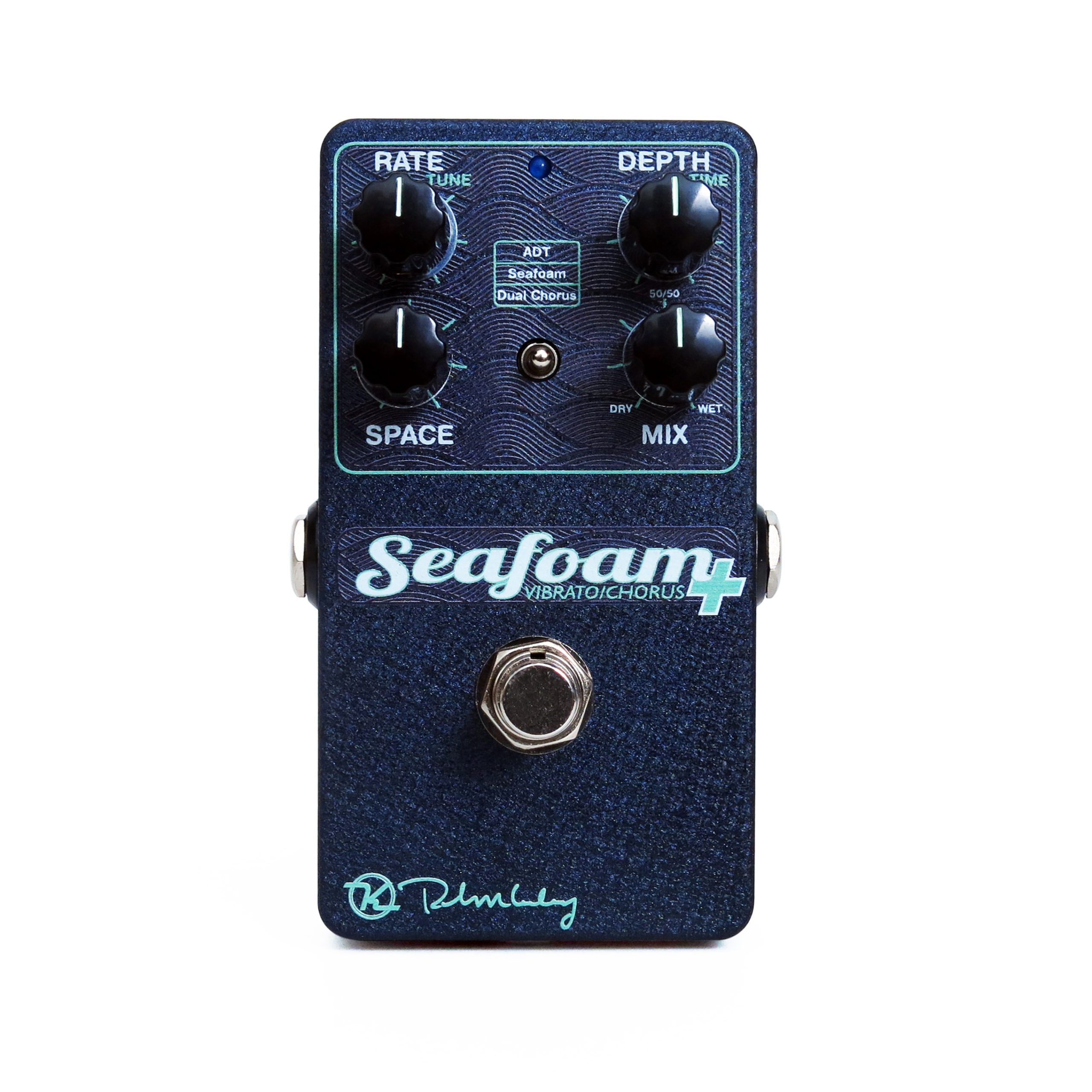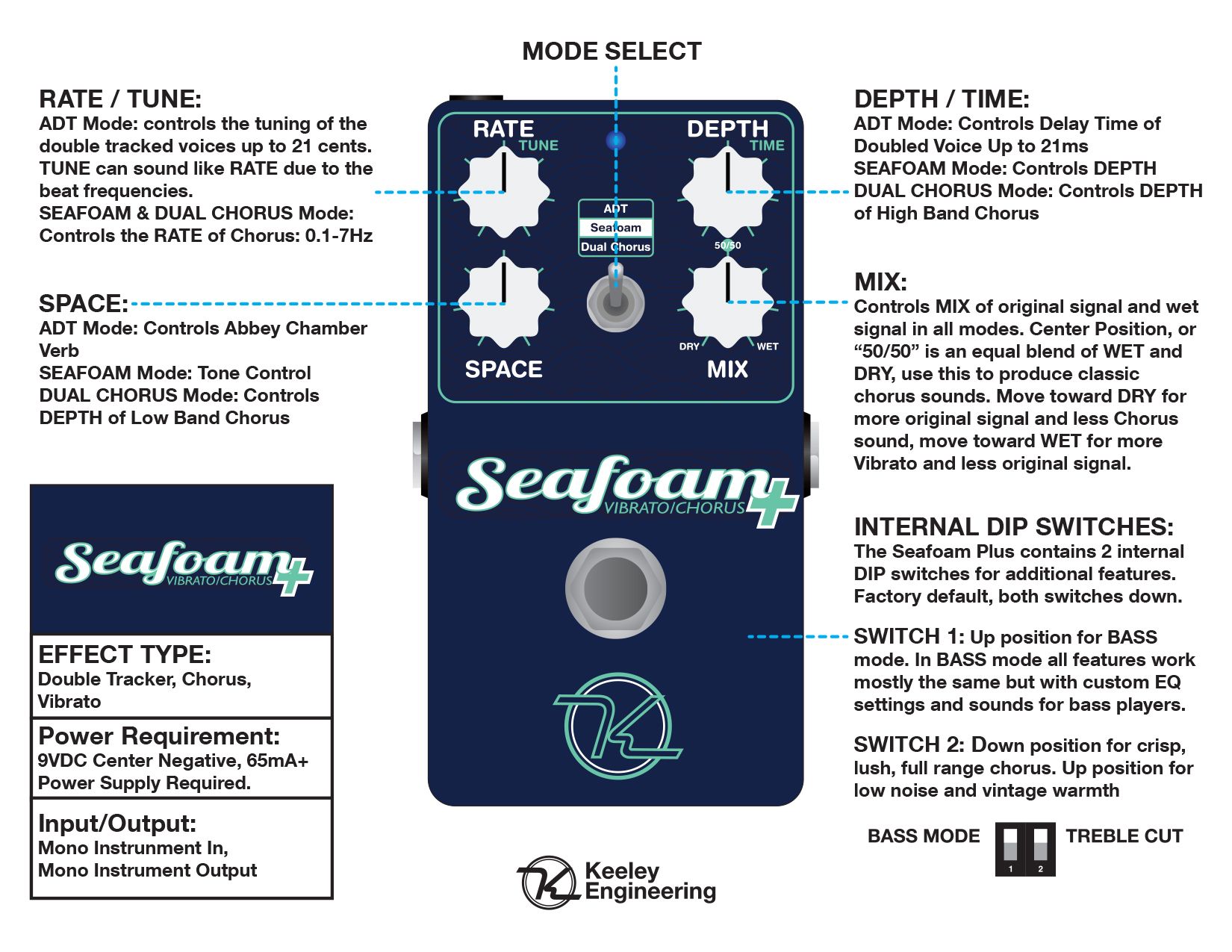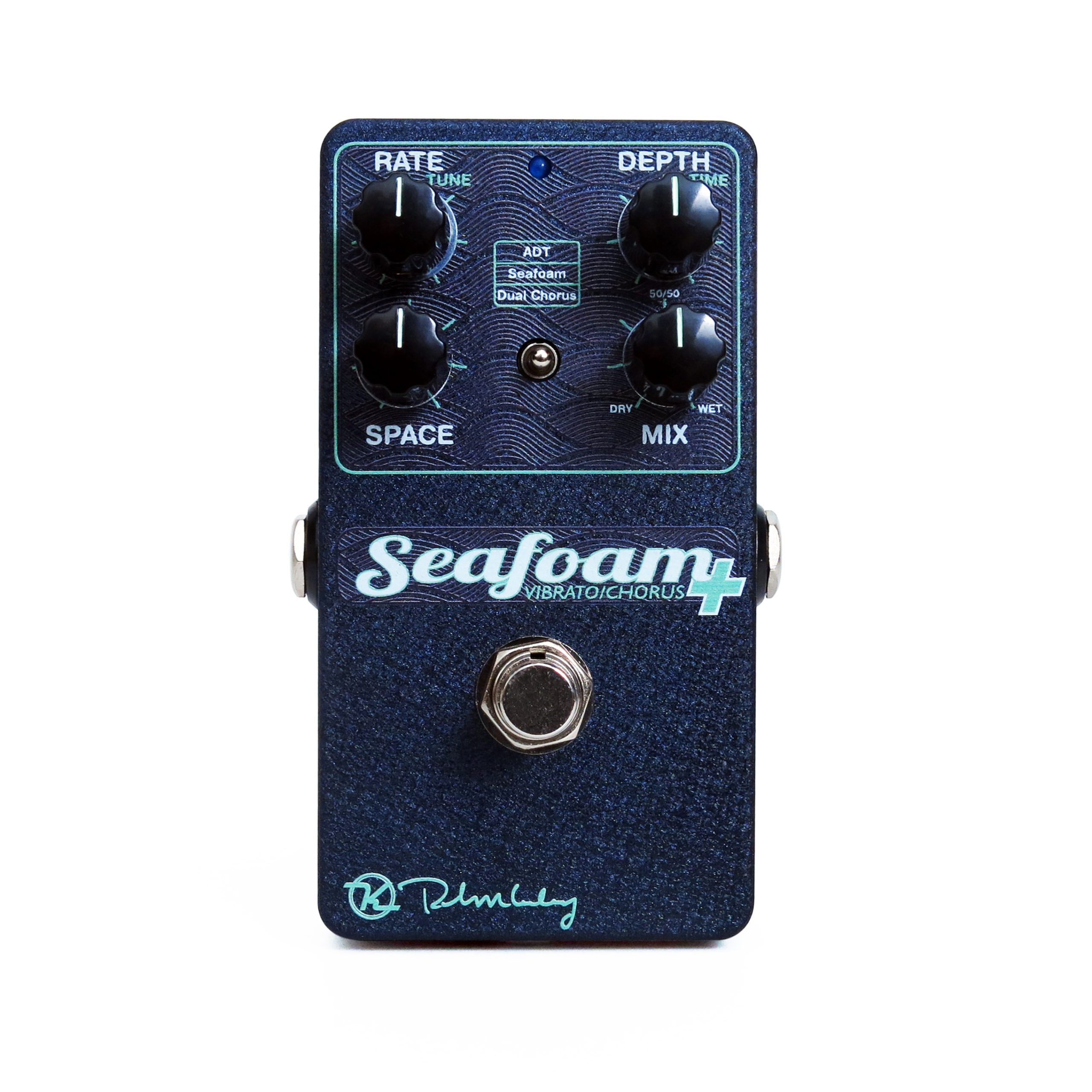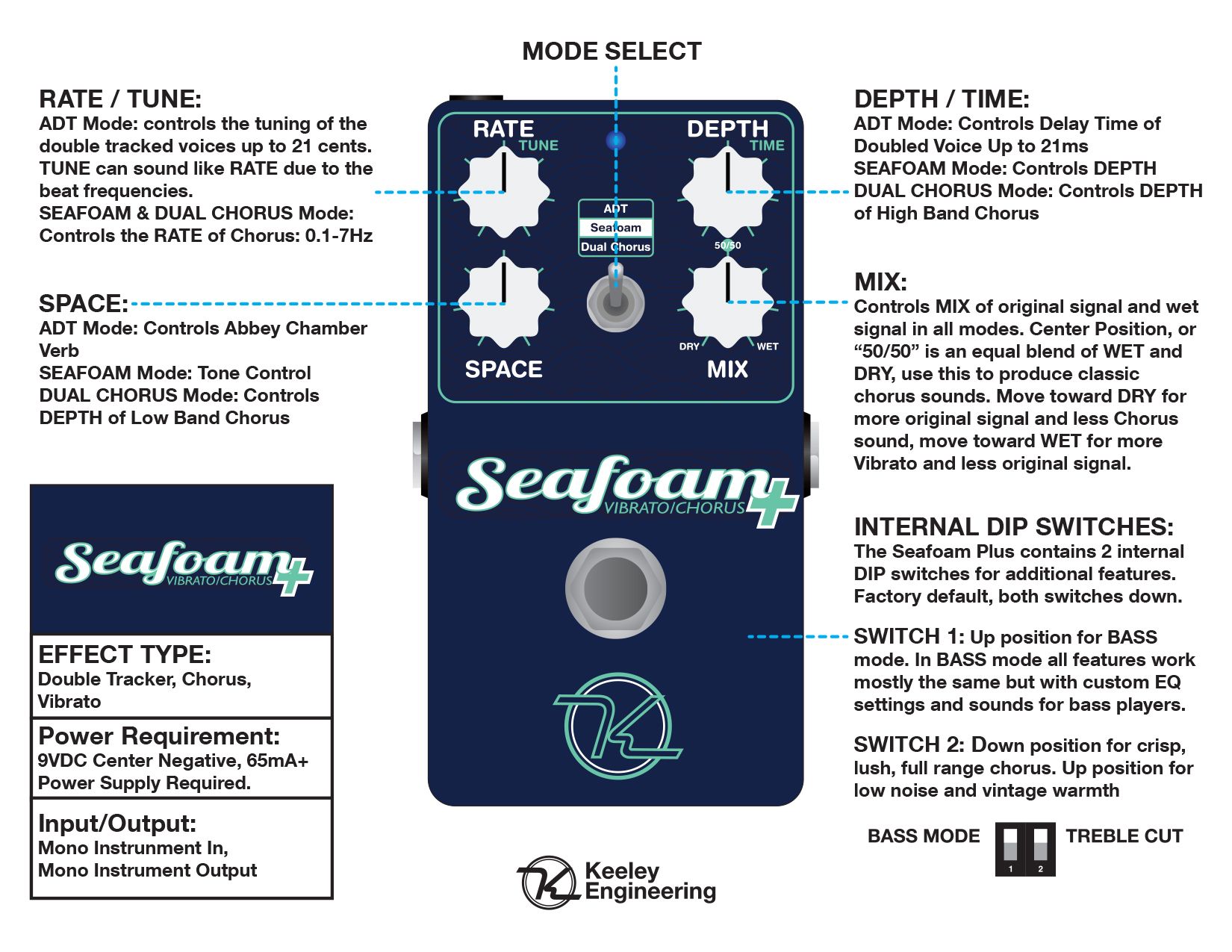 Keeley Seafoam Plus
Seafoam Plus Chorus – True Chorus and ADT with Reverb
We are proud to announce the all new Seafoam Plus Chorus – True Chorus and ADT with Reverb. It will forever change the way you think about chorus, because we have developed a new type of chorus that until now has only been available in expensive DAWs and in studios. Not only is it tuned for guitar, but there are voices and modes created specifically for bass players including flanging and tremolo. Lastly, this tri-mode chorus pedal offers internal switching for vintage and modern tones, further doubling the amount of sounds you can get.
Click for info on shipping, taxes, returns, etc.
Shipping
We offer shipping in to the US and Canada. Each product should have its own shipping cost which will be calculated in your cart as you check out.  Some products are not available for shipping. Shipping times vary per product.
Pickup
You can purchase a product online and then pick it up at our store. You can come during our open hours, or you can schedule an appointment for pickup.
Returns
You can return any purchase if you notify us of the return within 7 days of purchase and have us the item back within 14 days of purchase. We do not pay for shipping to return the item. Upon receipt, we will inspect the item and determine if the condition has changed. If the condition has changed, the refund will be partial to reflect the change in value of the item.
Taxes
Purchases made in our store will have a retail sales tax of 7%. All products purchased on our website will be taxed according to the buyer's location. In-state sales will be taxed at their county-specific rates, and out-of-state purchases will not be taxed.
Layaway
The Local Pickup (TLP) offers layaway on sales of $400 or greater. Here are our layaway terms:
TLP requires a deposit from the buyer of one quarter (1/4) of the total sale cost (purchase price +5% layaway fee + taxes + shipping).
TLP establishes with the buyer a unique payment plan not to exceed 12 months in duration to pay the full amount due.
If a scheduled payment is seven business days late, TLP has the right to cancel the purchase.
If TLP cancels the purchase, TLP will refund any money paid by the buyer, except the deposit. The deposit is non refundable.
The buyer has the right to payoff the full amount and complete the purchase at any time.
The buyer has the right to make extra payments toward the amount due.
Once the purchase is completed (all due money paid in full), the guitar will be delivered either via shipping or scheduled pickup.
ADT: THE NEW DEFINITION OF CHORUS. Our ADT chorus is what we call True Chorus, because we create a second and third voice–like singers in a choir. Not only do they sing at different times, they sing at different pitches. True Chorus.
Seafoam Mode: You guessed it… the all new Seafoam Plus Chorus–lush, wide, and with a very musical vibrato. It gives you the lush sounds and tone of a vintage BBD analog chorus unit. This is where you'll find a typical chorus feature. The Seafoam Mode of the pedal has an LFO, the regularly cycling part you hear in most every other chorus unit. It provides a classic tone that you expect and which has become part of many classic tunes. Set the rate for slow and the depth for wide, and enjoy a really spacious sounding chorus. Roll the Mix Control all of the way up for Vibrato. With the Space control acting as a Tone Control in this mode, you can go from bright to vintage warmth, dialing in the perfect chorus.
Dual Chorus Mode: We created a frequency crossover-based dual-chorus engine. Imagine a dividing line that is centered on your high E-string. Control the depth of chorus independently for highs and lows. Craft the ultimate "Come As You Are" Nirvana of chorus tones. Create a very deep, throbbing chorus on the low end, and a near perfect calm on the top end. Or make the high-end and shimmer and waver while keeping the low end fixed!
CHORALFLANGELO
The Seafoam Plus Chorus is also a Bass Chorus, Flanger, and Tremolo too! Pop off the back, flick a switch, and it's a bass guitar player's dream. The Space Controls gives you controls or Regeneration, High-pass filtering to keep things tight, and a haunting Tremolo you have to hear to believe!
VINTAGE AT HEART
Want a softer tone? Chorus that's silky smooth and warm? No problem. Internal switching puts it in "Vintage Mode." The Keeley Seafoam Plus Chorus ships in "Modern Mode" for ultra wide, lush, and high-fidelity chorus. Either way, enjoy sounds that are downright frighteningly good.