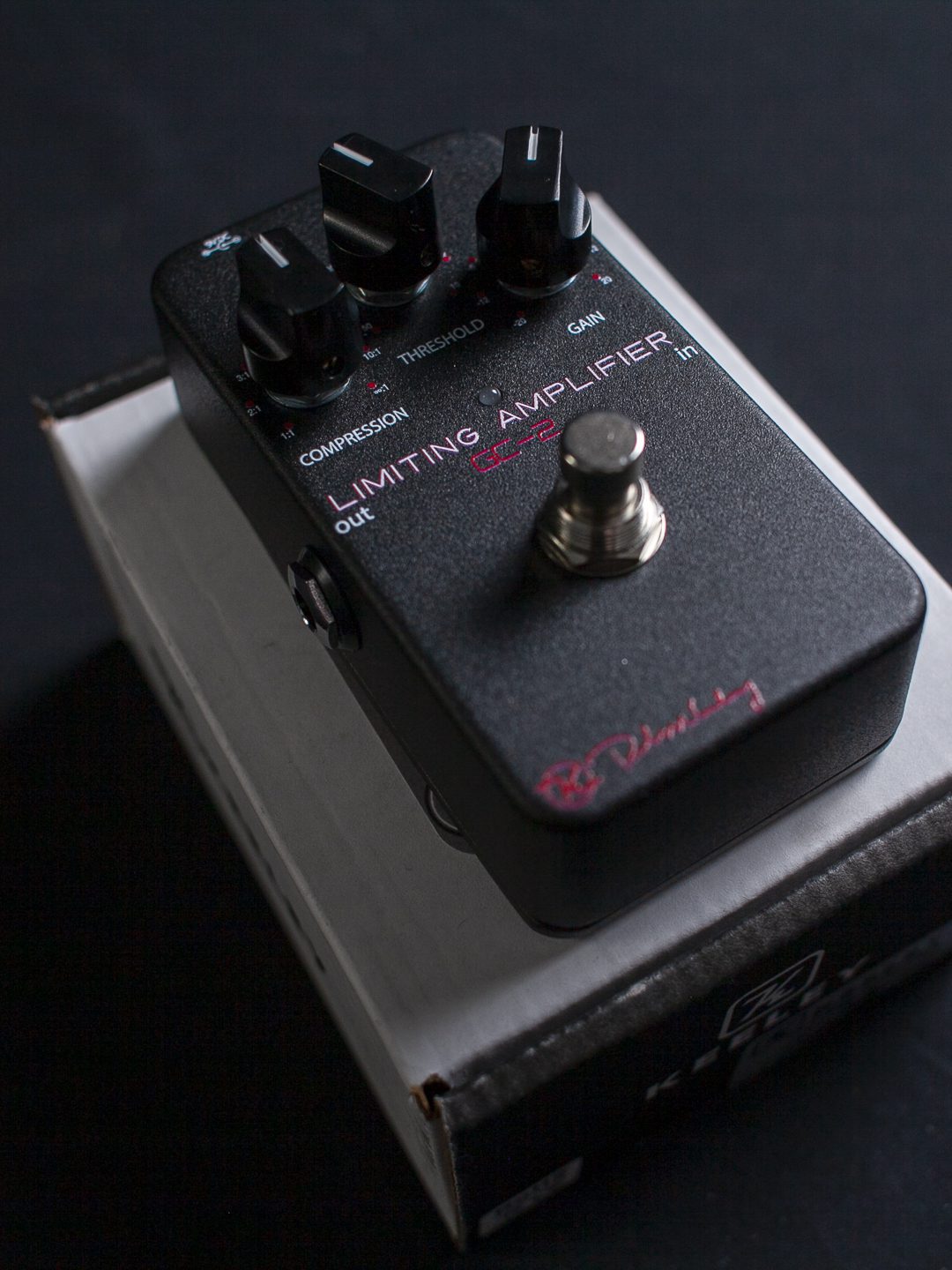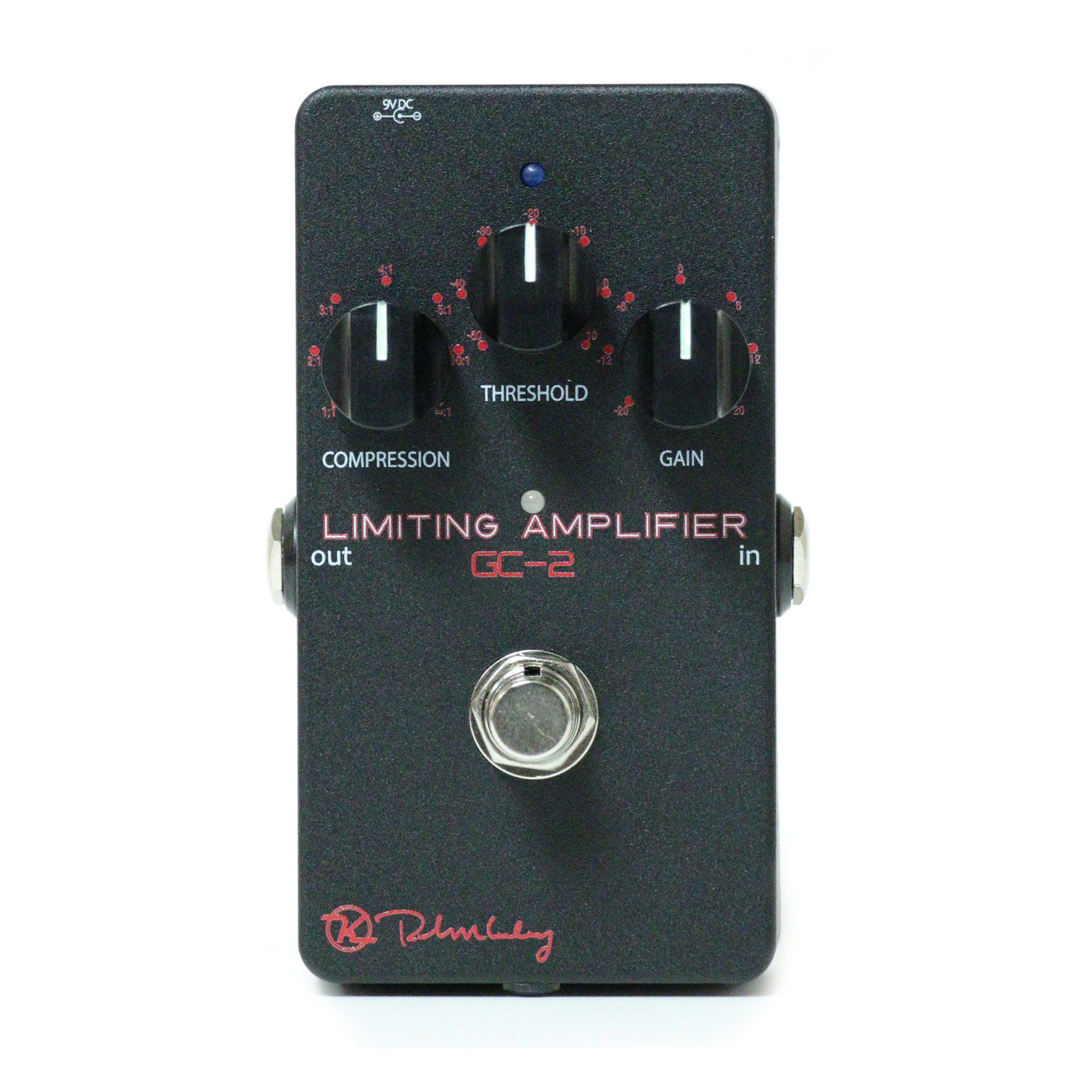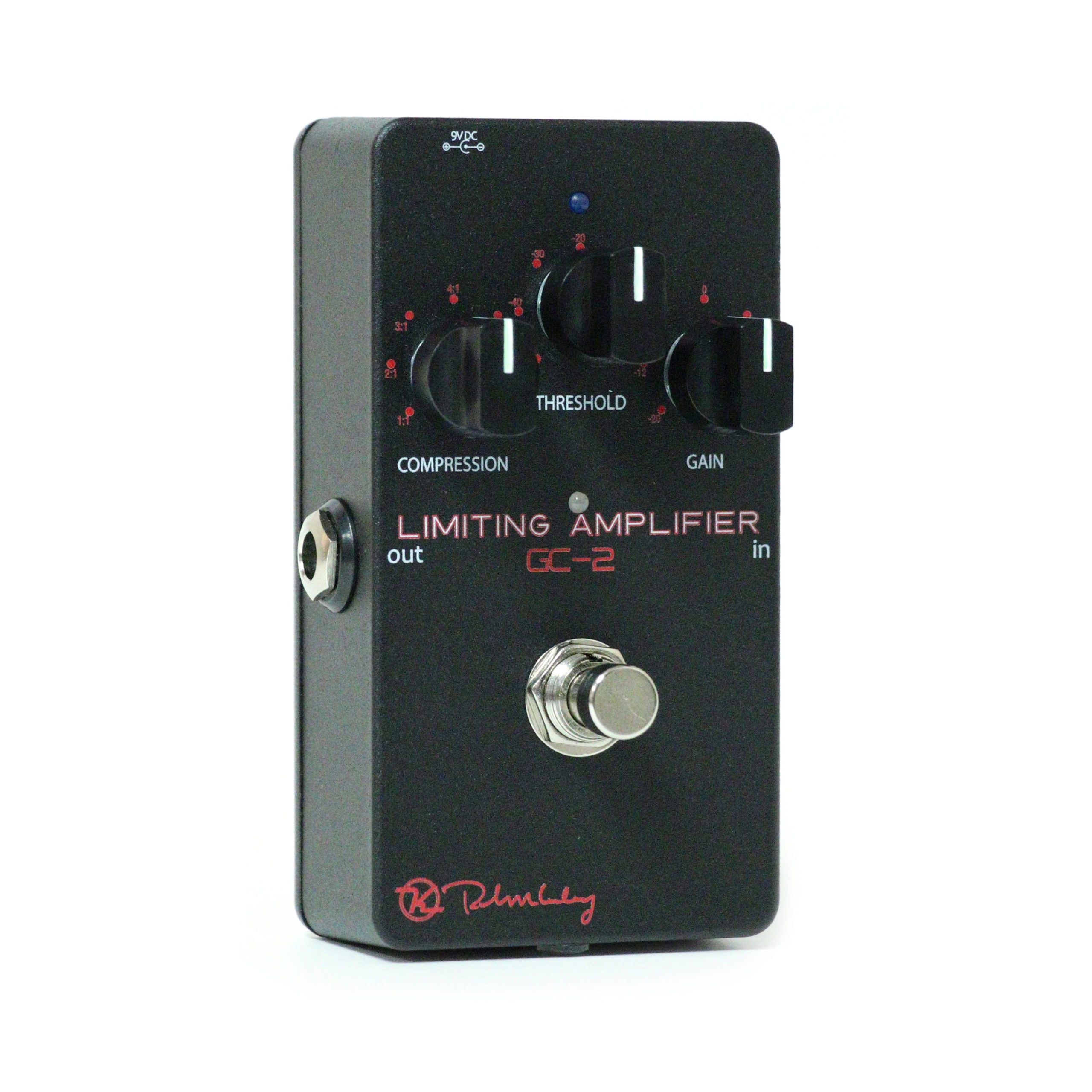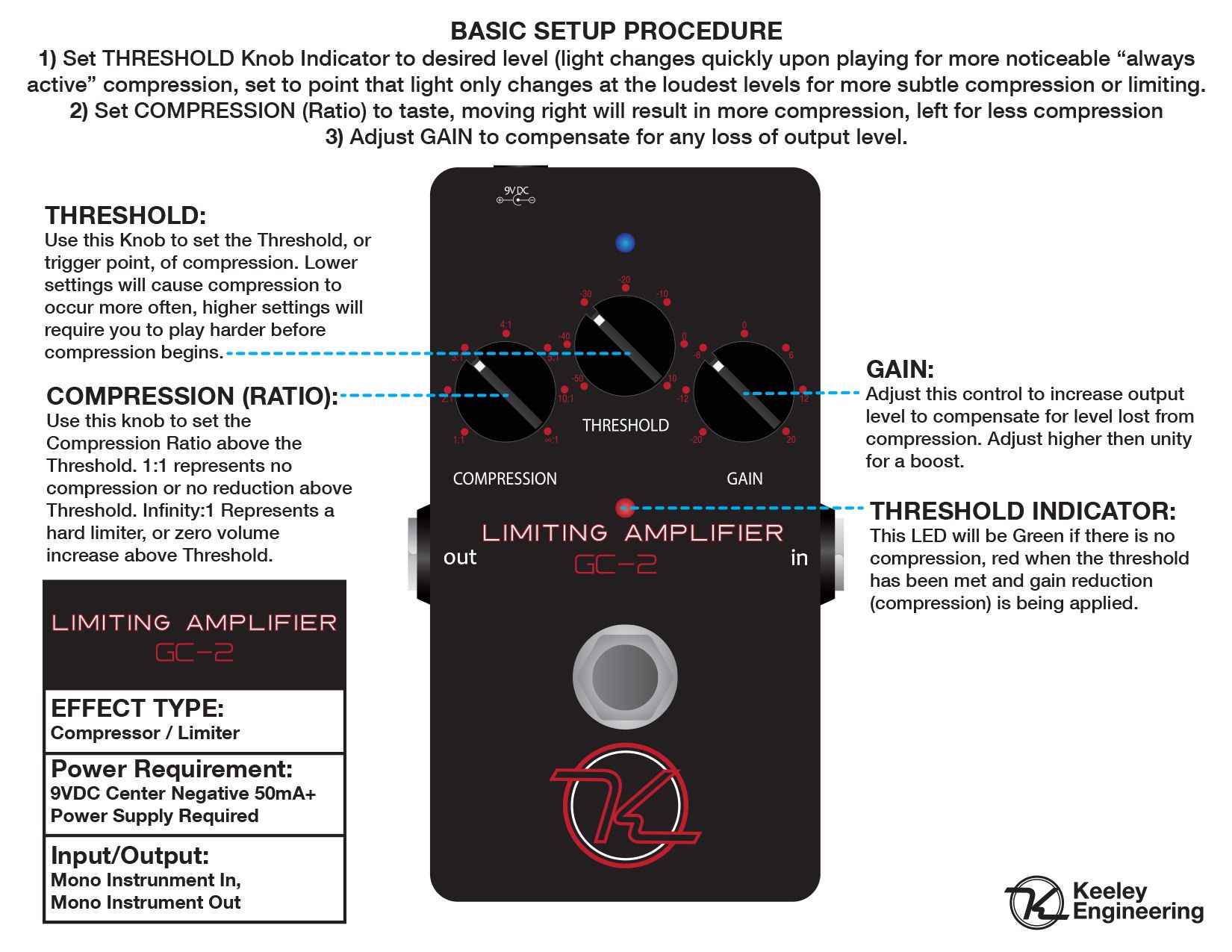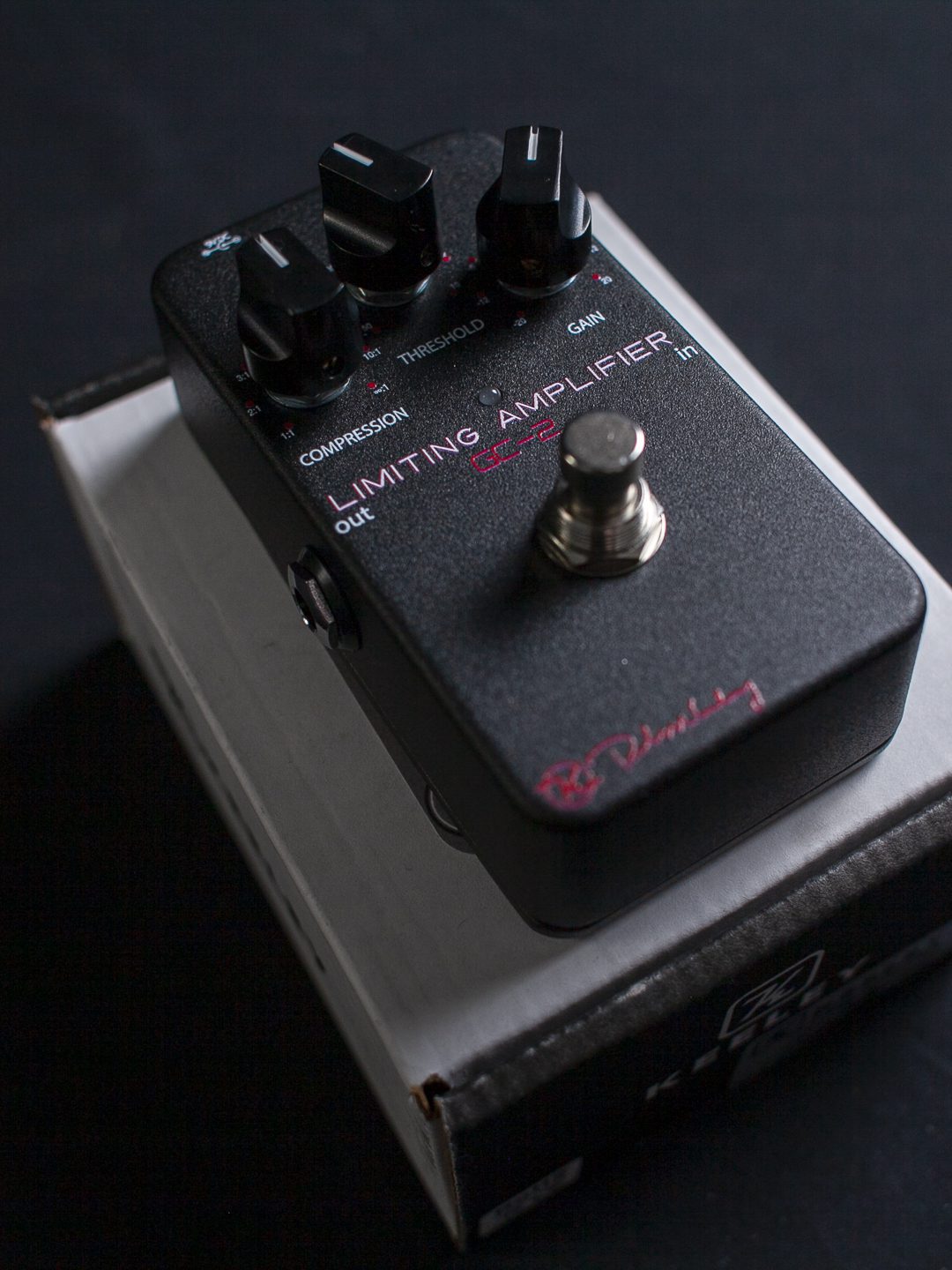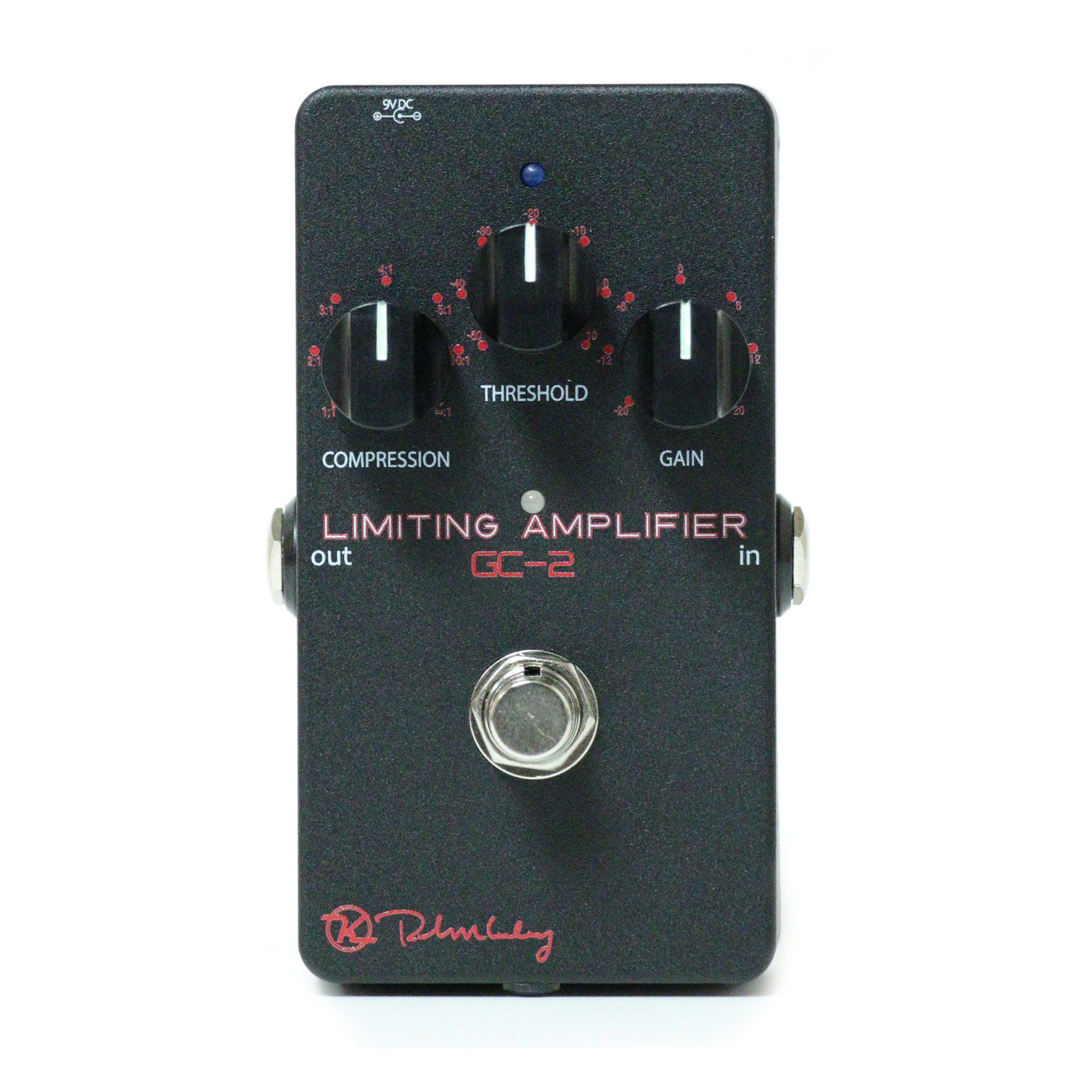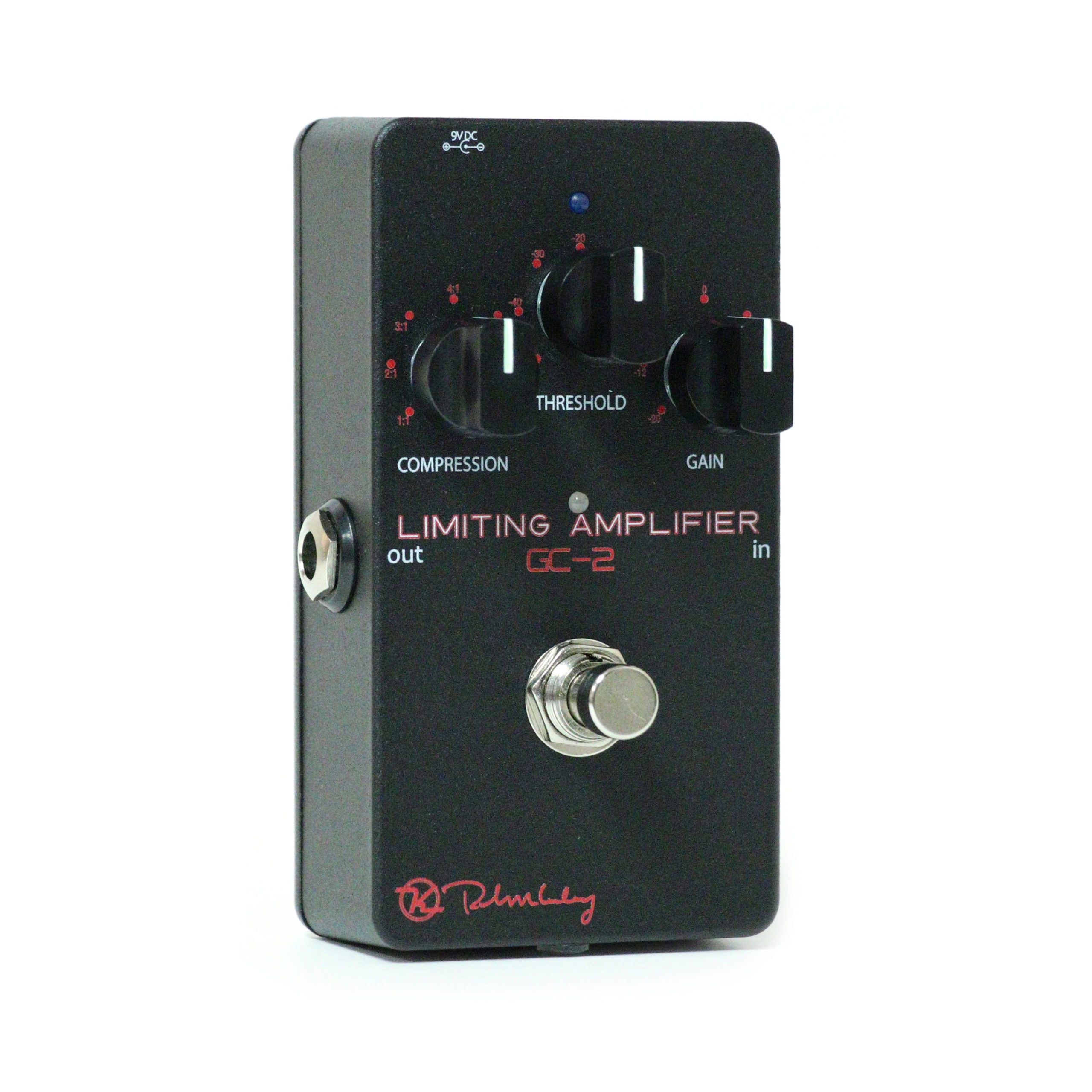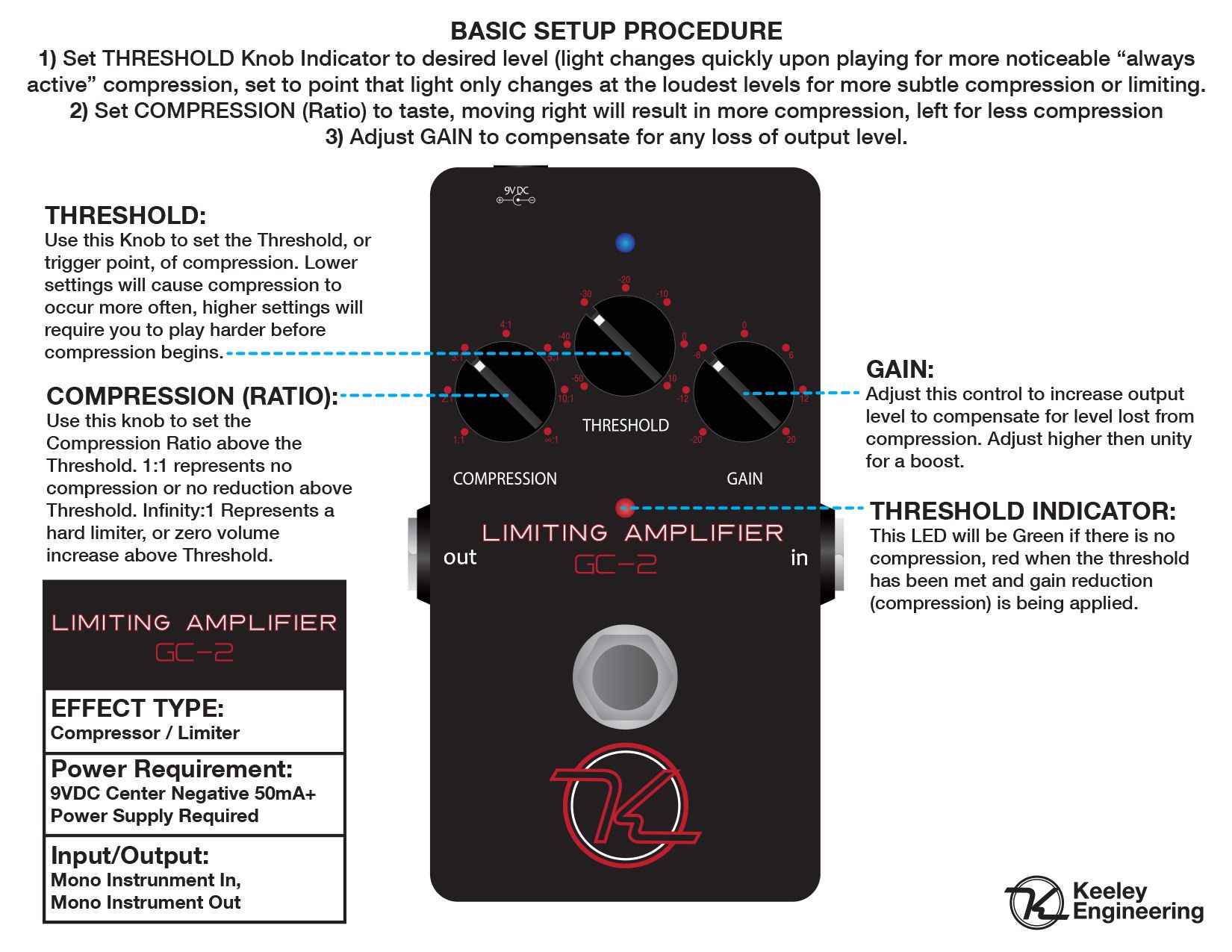 Keeley Compressor GC-2 Limiting Amplifier
The Keeley Compressor GC-2 Limiting Amplifier provides true high-fidelity compression and limiting.
The Keeley Compressor GC-2 Limiting Amplifier is built around the exotic and extremely high-fidelity THAT Corp. 4320. Think of it as very musical studio-grade compressor in stomp box format! It uses high performance Voltage Controlled Amplifiers, on board true-RMS detector, and ultra-high performance op-amps to bring you the very best quality. This type of compressor gives you precise control and very musical results. This along with a full frequency range means that the GC-2 Limiting Amplifier compressor is well suited for guitar, keyboards, drum machines and, really, anything you can throw at it. The Keeley GC-2 Limiting Amplifier is both musical and transparent. Where our older compressors were based on the CA3080 or the LM13700 and are perfect for that "Compressor Effect" and are still in use by tens of thousands of players, the new Keeley GC-2 is a different style compressor, aimed at being the ultimate in low noise and transparency. Not only can it handle astonishingly large signals, but it has an incredible bandwidth of over 20 KHz. No detail in your guitar's tone will be lost. The Keeley GC-2 will be a sound investment in your tone–you now have genuine rack-mount quality at your feet.
Click for info on shipping, taxes, returns, etc.
Shipping
We offer shipping in to the US and Canada. Each product should have its own shipping cost which will be calculated in your cart as you check out.  Some products are not available for shipping. Shipping times vary per product.
Pickup
You can purchase a product online and then pick it up at our store. You can come during our open hours, or you can schedule an appointment for pickup.
Returns
You can return any purchase if you notify us of the return within 7 days of purchase and have us the item back within 14 days of purchase. We do not pay for shipping to return the item. Upon receipt, we will inspect the item and determine if the condition has changed. If the condition has changed, the refund will be partial to reflect the change in value of the item.
Taxes
Purchases made in our store will have a retail sales tax of 7%. All products purchased on our website will be taxed according to the buyer's location. In-state sales will be taxed at their county-specific rates, and out-of-state purchases will not be taxed.
Layaway
The Local Pickup (TLP) offers layaway on sales of $400 or greater. Here are our layaway terms:
TLP requires a deposit from the buyer of one quarter (1/4) of the total sale cost (purchase price +5% layaway fee + taxes + shipping).
TLP establishes with the buyer a unique payment plan not to exceed 12 months in duration to pay the full amount due.
If a scheduled payment is seven business days late, TLP has the right to cancel the purchase.
If TLP cancels the purchase, TLP will refund any money paid by the buyer, except the deposit. The deposit is non refundable.
The buyer has the right to payoff the full amount and complete the purchase at any time.
The buyer has the right to make extra payments toward the amount due.
Once the purchase is completed (all due money paid in full), the guitar will be delivered either via shipping or scheduled pickup.
Compression and Threshold
When musicians use the new Keeley Compressor GC-2, they will be greeted with a sound that is more easily amplified and heard. Using the effect as a limiting amplifier saves your speakers from clipping and distortion. Set the Threshold to look for peaks in your signal and limit distortion from your amplifier or damage to your speakers. Simply watch the Threshold Indicator light to see what type of playing you want to limit; it's that easy! Next, set the Compression Ratio Control to determine how much squash you want when the signal is above Threshold. Set Compression all of the way down (1:1) for no compression and use the Gain control as a boost. Set Compression all of the way up for an above-Threshold, hard-knee limiter.
Attack and Release
There is a certain figure that just sounds good as far as compression goes, and that's 125 dB/second. With feed-forward compressors that use this type of true-RMS detector you use a single time-constant parameter. The timing capacitor gives you attack and release times that are adaptive to your playing level or the signal input to the compressor. Bottom line: Attack and Release times vary on program content. Attack times are, generally speaking, about 100 times faster than release times.
Attack Time: typically 15ms for 10dB, 5ms for 20dB, 3ms for 30dB
Release Time: typically 8ms for 1dB, 40ms for 5dB, 80ms for 10dB, 160ms for 20dB, 240ms for 30dB
Tone Control and Blend
None – You don't need a tone control or a blend control on a compressor. In fact, in our opinion it's not a good idea. If you want a blend control, you are undoing your compressor. Instead, set the Threshold high and only let peaks be processed and then set the Compression Ratio to 2:1 or 4:1. Much smarter. So, tone control? None here. It has tone for days, and there is no need to add treble response back into the mix. Its ultra slick, feed-forward compression design helps maintain high-end treble response like no other. Lastly, Tone Controls and Blend Controls only add noise in a compressor. Why add noise to a compressor circuit?