TheLocalPickup
Hagstrom Viking I
The Hagstrom Viking I stands as a testament to the unique craftsmanship and innovative design that Hagstrom, the Swedish guitar manufacturer, brought to the musical world. Introduced in the late 1960s, the Viking I is a semi-hollowbody electric guitar that embodies the spirit of the era's experimentation with guitar shapes and tonal possibilities. The Viking I features a distinctive double-cutaway body with a carved top, semi-hollow construction, and stylish f-holes. Its signature Hagstrom "H" tailpiece and adjustable truss rod contribute to its playability and functionality. The guitar is revered for its versatile tonal palette and stands as a prime example of Hagstrom's commitment to producing innovative instruments that appeal to musicians seeking both sonic excellence and unique aesthetics.
The Hagstrom Viking I has caught the attention of players who appreciate its blend of form and function. Notably, Elvis Presley's guitarist, James Burton, was known to use a Hagstrom Viking I during certain performances, showcasing the guitar's capabilities in a live setting. Additionally, Swedish jazz guitarist Jan Akkerman, a founding member of the progressive rock band Focus, employed the Viking I to craft intricate melodies and dynamic solos, contributing to its reputation as a versatile instrument across genres. The Hagstrom Viking I's place in the hands of these renowned players further solidifies its significance as an instrument of exceptional quality and creativity.
Features and Specs for the Hagstrom Viking I
Body Shape: Double-cutaway semi-hollowbody
Body Material: Plywood with a carved spruce top
Neck Material: Maple
Neck Construction: Set neck
Fingerboard Material: Resinator wood (a composite material designed to resemble ebony)
Fingerboard Radius: 15 inches (380 mm)
Scale Length: 24.75 inches (628 mm)
Number of Frets: 22 Medium Jumbo
Nut Width: 43 mm
Pickups: Two Hagstrom HJ-50 humbucking pickups
Controls: Volume and Tone controls for each pickup, 3-way pickup selector switch
Bridge: Long-travel Tune-O-Matic with Hagstrom Trapeze Tailpiece
Tuning Machines: Hagstrom 18:1 die-cast tuners
Hardware Finish: Chrome
Nut Material: GraphTech Black Tusq XL
Fretboard Inlays: Hagstrom Block Pearloid
History of the Hagstrom Viking
The Hagstrom Viking was first produced in 1965 and was the first semi-acoustic guitar Hagstrom ever built. It was launched at the same time as a 12-string guitar and two basses. It had such rapid success that Hagstrom launched a the 12-string Viking 12 and the Viking II Deluxe just two years later. The Deluxe had golf-plated machine heads and adjustable bridges. The same year they launched those two new versions of the Viking, Hagstrom hired Frank Zappa's "Nifty, Tough & Bitchin'" advertising agency to promote their brand in the USA. The three print ads that ensued were titled "Nifty", "Long and Slippery", and "Folk Rock is a Drag", presumably to show Hagstrom guitars as edgy and hip.
Despite putting money into this ad campaign, the biggest piece of publicity came when Elvis Presley played a Hagstrom Viking at the Elvis Presley Comeback Television Special in 1968 (pictured below). Al Casey played a Viking II in the orchestra and was asked if Elvis could borrow the guitar for the television appearance. According to Elvis's drummer Hal Blaine, this guitar was considered a lucky charm by Elvis. Hagstrom took advantage of this by using pictures from the special for their ads until they were more-or-less issued a cease and desist by Elvis's manager.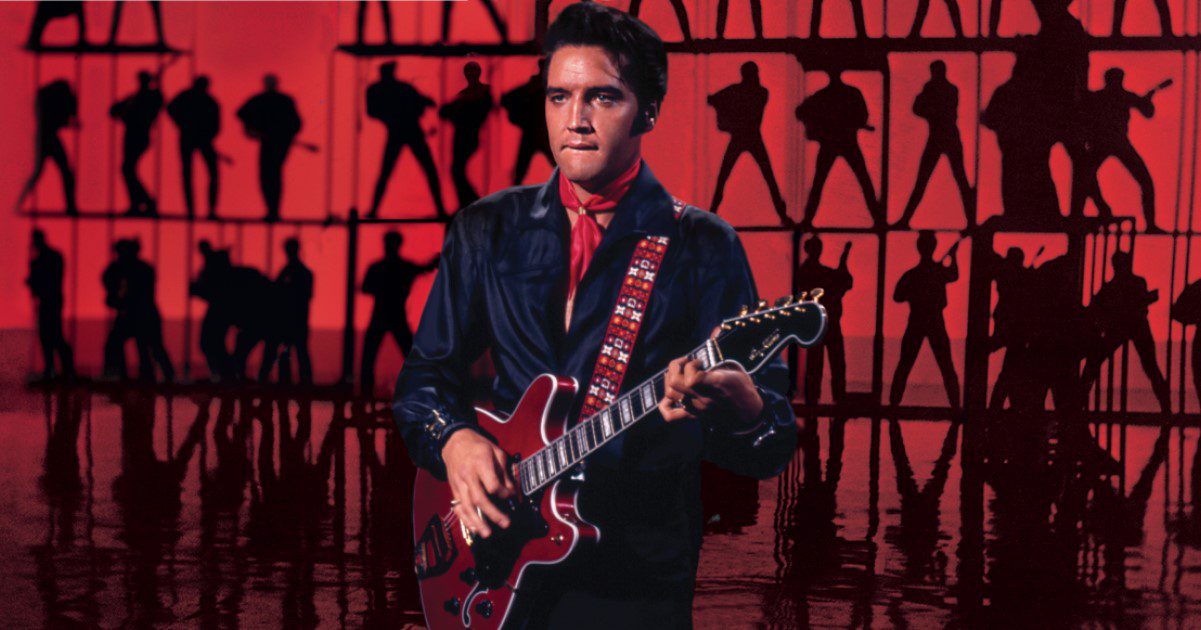 In 1972, the Viking I N was launched to replace the original Viking. It had two humbuckers instead of the original single-coil pickups as well as a new "ducks foot" headstock taken from the Hagstrom Swede. Over the next few years, some other small details were tweaked, but the Viking was finally discontinued in 1979. In 2004, the Hagstrom brand was brought back along with 3 new Viking models: the Viking, the Viking DeLuxe, and the Viking IIP. If you're looking for an affordable version of this classic guitar, the Viking IIP is the way to go.
History of Hagstrom
It's probably too late in the article to stop the hate mail, but yes, we know it's technically spelled "Hagström". But since our keyboards don't have that fancy "O" and the logo leaves it out, we're going to continue spelling it "Hagstrom". Thank you for understanding. Hagstrom was founded way back in 1925, originally producing accordions imported from Germany and Italy. In 1932 they opened their own manufacturing facility in Sweden so they could control the means of accordion production.
In 1958, Hagstrom started making electric guitars heavily influenced by their accordion production. This produced guitars with a very unique look and feel (see image below). For their firsts, Hagstrom was the first company to mass-produce 8-string bass guitar as well as the first to build a guitar/synthesizer hybrid, the Swede Patch 2000.
Hagstrom's guitar production quickly exploded, with tons of models created to capture as much of the market as possible. There was the Hagstrom 1, the H series, the Swede, the Impala, the Corvette (or Condor in the US), the Viking, the aforementioned Swede Patch 2000, the Jimmy, and more. They also produced amps, speakers, effects units, guitar strings, and mixing consoles. In 1967, after a CEO change, they also started publishing "teach-yourself" books and mail courses for guitar, bass, keyboards, and more. Hagstrom emphasized the fact that the electric guitar was its own instrument as opposed to an "amped up" version of an acoustic guitar. This popularized the idea of being an electric guitarist long before what became known as "rock music" was a cultural staple.
In 1970, Hagstrom ended accordion production to focus on their other product lines. They continued production until 1983, when they finally closed their doors. Their Swedish-made guitars were out-priced by other major guitar brands that had moved primary production to Asia. While Hagstrom did make a few prototypes in Japan, the company felt that the workmanship wasn't up to par and that they'd rather shut down the company than cheapen the brand.
In 2004, Hagstrom reopened for the international market. The guitars they produced were recreations of the originals with certain liberties being taken to account for modern playability. They were able to stick to the principles of the original brand and manufacture the new guitars in Sweden. They also manufacture some more explosive guitars in other European countries. Hagstrom is still going strong today, being very popular among people who remember the original guitars fondly but don't want to put the money and time into buying and/or restoring a vintage model.