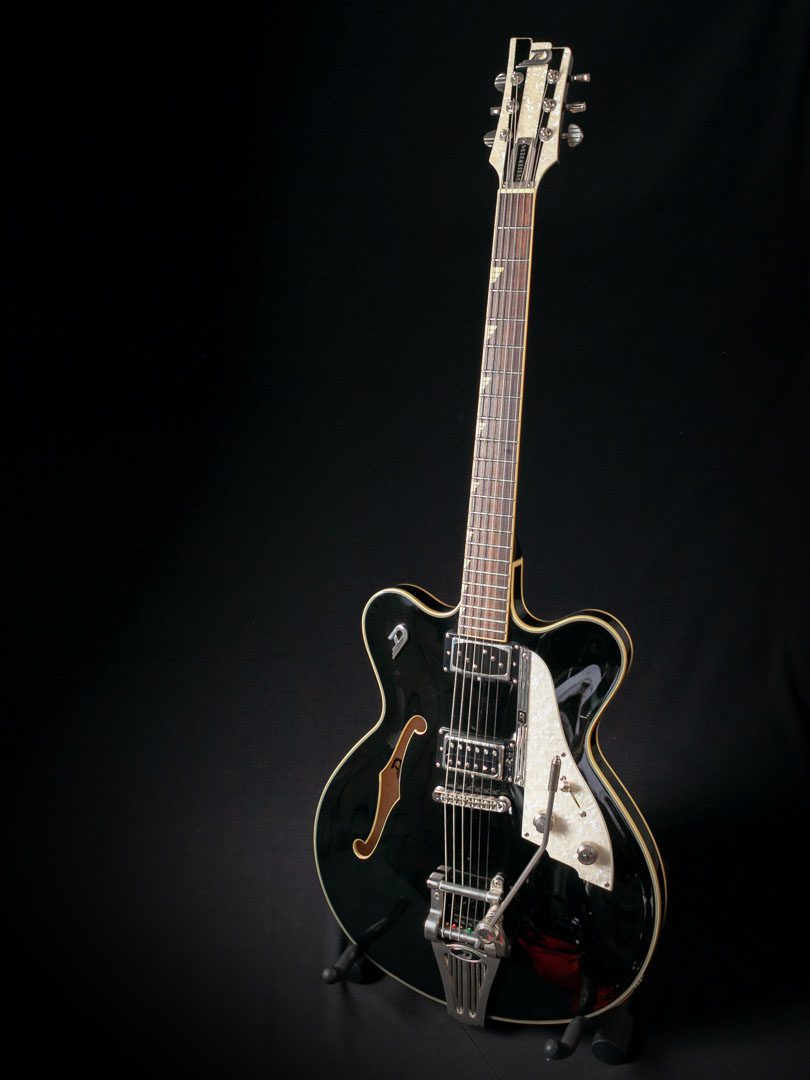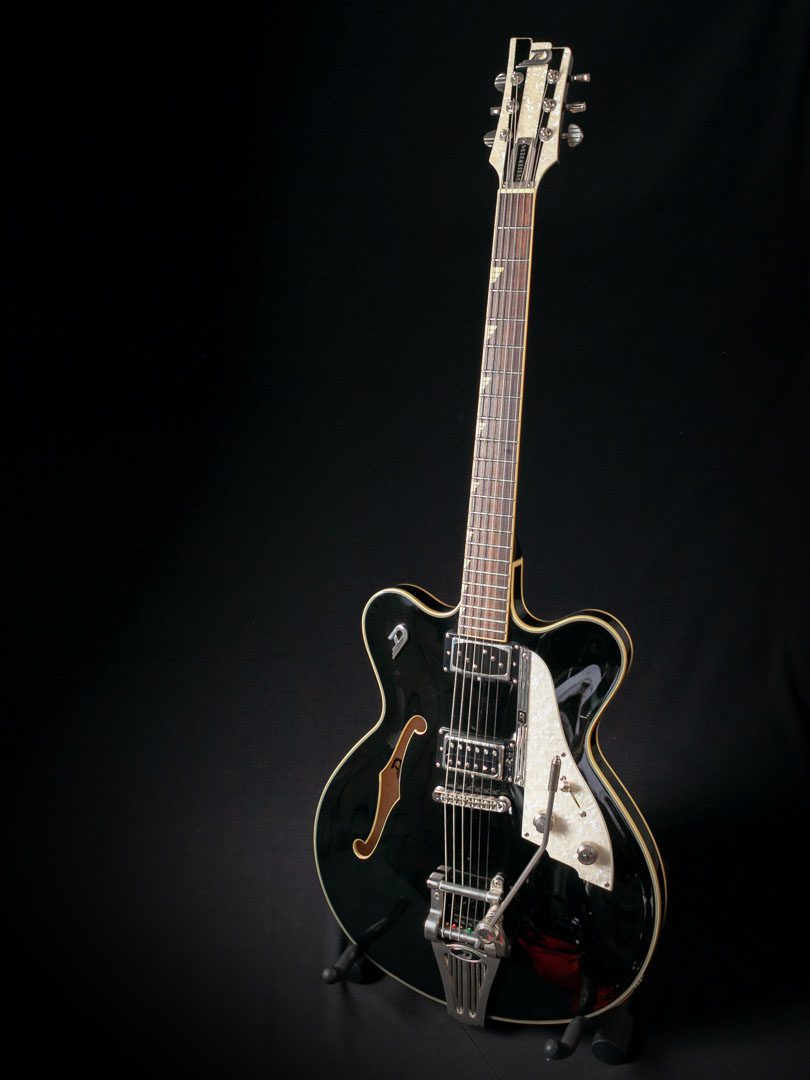 2010s Duesenberg Fullerton Elite
This Duesenberg Fullerton Elite is in excellent condition with general play wear including pick scratches and a few slight nicks and scrapes (when you look closely). Everything works perfectly. It plays like a dream, and it sounds great. If you've never used the tremelo on a Duesenberg, you're in for a treat.
The Duesenberg Fullerton Elite is a semi-hollow, dual-pickup, 22-fret electric with an arched top and back as well as bent sides. It has a thin-profile body only 3.5cm thick. This guitar has a unique pickup combination, with a Duesenberg D-Tron humbugger in the bridge position and a PH90 Domino noiseless single-coil at the neck, making for tons of versatility. In summary, this guitar is made to be played, with a look and tone that exceed expectations.
Click for info on shipping, taxes, returns, etc.
Shipping
We offer shipping in to the US and Canada. Each product should have its own shipping cost which will be calculated in your cart as you check out.  Some products are not available for shipping. Shipping times vary per product.
Pickup
You can purchase a product online and then pick it up at our store. You can come during our open hours, or you can schedule an appointment for pickup.
Returns
You can return any purchase if you notify us of the return within 7 days of purchase and have us the item back within 14 days of purchase. We do not pay for shipping to return the item. Upon receipt, we will inspect the item and determine if the condition has changed. If the condition has changed, the refund will be partial to reflect the change in value of the item.
Taxes
Purchases made in our store will have a retail sales tax of 7%. All products purchased on our website will be taxed according to the buyer's location. In-state sales will be taxed at their county-specific rates, and out-of-state purchases will not be taxed.
Layaway
The Local Pickup (TLP) offers layaway on sales of $400 or greater. Here are our layaway terms:
TLP requires a deposit from the buyer of one quarter (1/4) of the total sale cost (purchase price +5% layaway fee + taxes + shipping).
TLP establishes with the buyer a unique payment plan not to exceed 12 months in duration to pay the full amount due.
If a scheduled payment is seven business days late, TLP has the right to cancel the purchase.
If TLP cancels the purchase, TLP will refund any money paid by the buyer, except the deposit. The deposit is non refundable.
The buyer has the right to payoff the full amount and complete the purchase at any time.
The buyer has the right to make extra payments toward the amount due.
Once the purchase is completed (all due money paid in full), the guitar will be delivered either via shipping or scheduled pickup.
About Duesenberg
Founded in Germany in the late '90s, Duesenberg combines traditional techniques with innovative designs to create instruments that are as visually stunning as they are sonically rich. Each Duesenberg guitar is meticulously handcrafted, incorporating high-quality tonewoods, top-notch hardware, and their proprietary pickups and electronics.
Duesenberg guitars are cherished by professional musicians worldwide for their exceptional playability, versatility, and vintage-inspired aesthetics. Each model offers Duesenberg's distinct blend of timeless craftsmanship and modern innovation that appeals to players across a wide range of genres.
Body
Type: Semi-hollow with sustain block, bent sides, f-hole
Top: Laminated spruce
Back, Sides: Laminated maple
Size: 51.5 X 41 cm/20.27" x 16"
Height (sides): 3.5 cm/1.4"
Binding: Cream, 5-layer purfling
Pickguard: Vintage pearloid
Finish: PUR lacquer
Neck
Neck Joint: Set-in wood: 1-piece maple
Width: 42.5 mm/1.67″ (nut), 52 mm / 2.05″ (12th fret)
Thickness: 21 mm / 0.8″ (1st fret), 24 mm / 0.95″ (12th fret) D
Shape: Indian rosewood, radius 30.5 mm / 12″
Fingerboard: Doozy wings
Inlays: 22 jumbo 2.8 x 1 mm
Frets: 648 mm / 25.5″
Scale length:
Trussrod: Steel dual-action
Headstock: Black & pearloid fan
Electrics
Pickup (neck): Duesenberg PH-90 Single Twin
Pickup (middle): N/A
Pickup (bridge): Duesenberg D-Tron humbucker
Wiring: 1 volume, 1 tone, 3-way pickup selector
Hardware
Tuners: Duesenberg Z-tuners, "Art Diego" buttons

Bridge: Duesenberg steel saddle bridge

Tailpiece: Duesenberg radiator tremolo
Strap pins: Kluson multi-lock
Hardware: Nickel