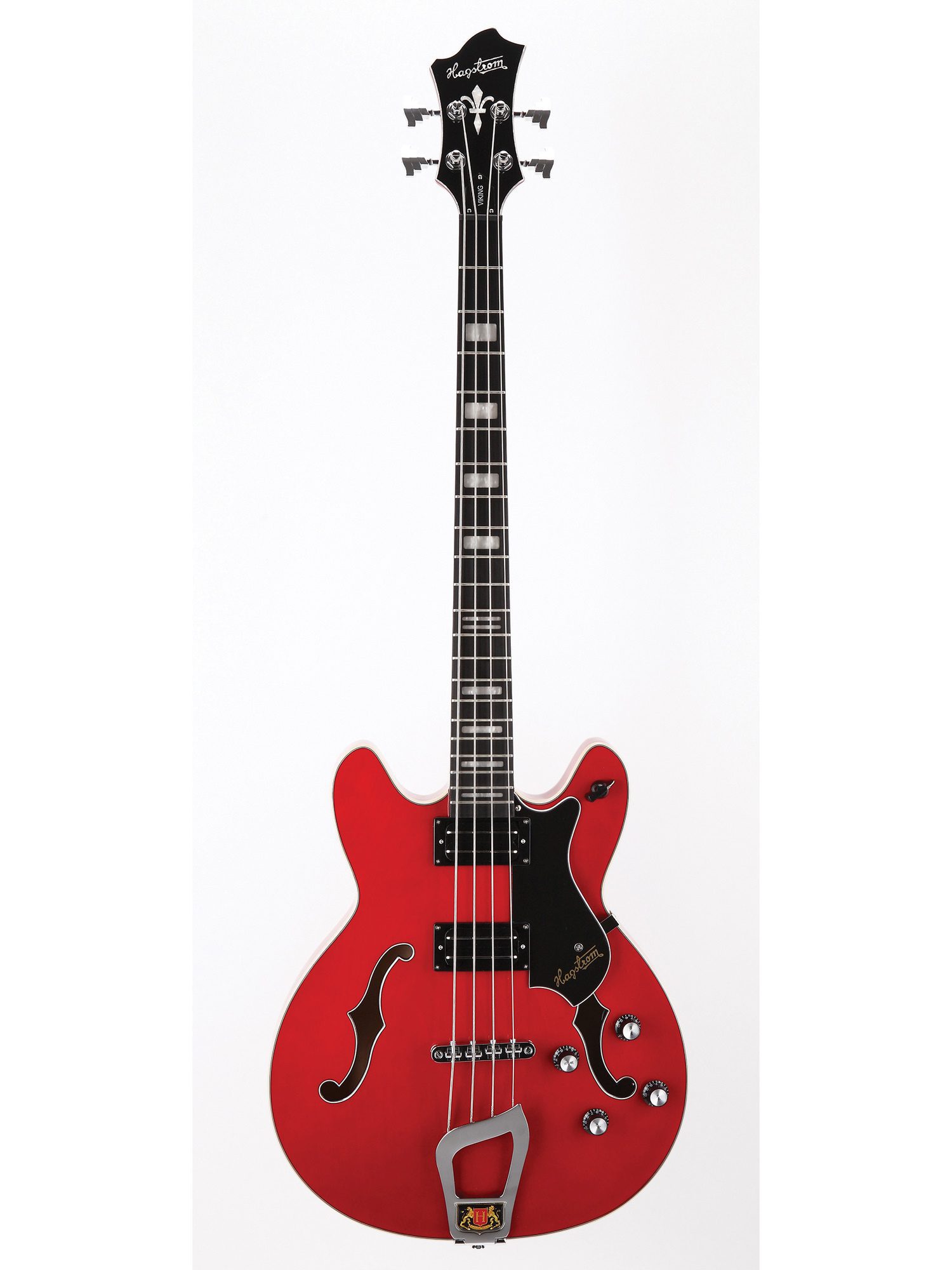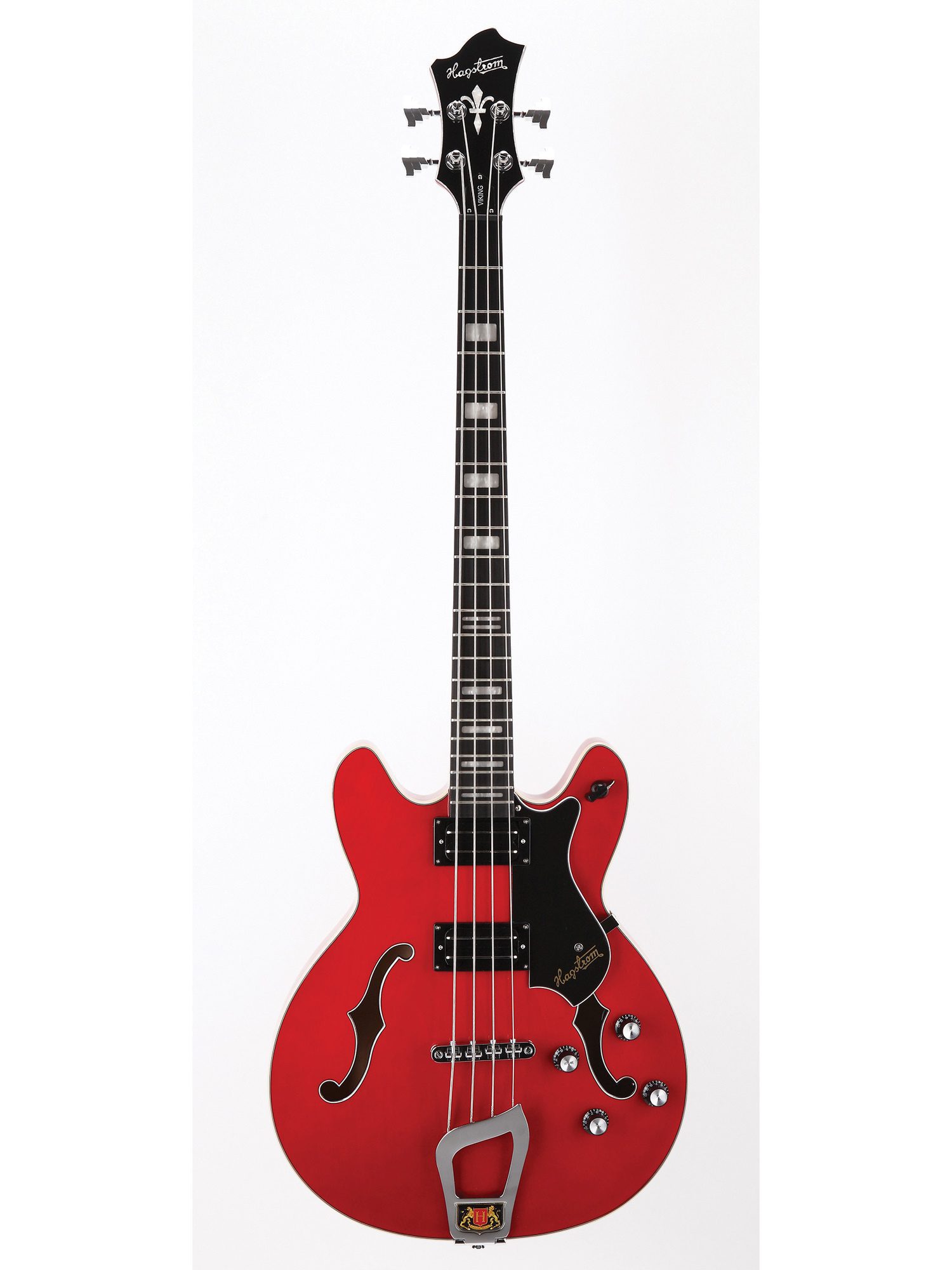 Hagstrom Viking Bass – Wild Cherry Transparent
Introduced as the Concord bass in 1965, Hagstroms Viking bass injects some tactfully chosen vigor into an all-time classic design. This meticulously crafted semi-hollow bass with a short 30.75-inch (781 mm) scale is fitted with Hagstroms custom-voiced Dyna-Rail humbucking pickup's A brilliantly designed 6-way rotary switch allows switching between various humbucking and single-coil configurations for a dizzying array of tonal options. From 60's Brit-rock to modern day low-end goodness, the Viking bass delivers ear-candy galore. All Hagstrom electric guitars and basses include their patented H-Expander truss rod. Providing tension at both ends and running the entire length of the neck, the rigid yet light-weight alloy truss rod allows for a very low action and thin neck, two factors that were instrumental in earning Hagstrom its reputation as the worlds fastest playing guitar. The H-Expander truss rod not only provides ultimate neck stability, but it also contributes to Hagstroms unique tone. Longer sustain and a round attack are some of the sonic characteristics the H-Expander adds to the tonal essence of Hagstrom. Resinator wood is a wood composite material that is both more uniform in density and more stable than any standard wood product. These characteristics eliminate dead spots or wolf tones sometimes associated with conventional wood fingerboards. Resinator wood has an articulate sound similar to high quality ebony, but without any of the problems associated with ebony. It provides a stable and Clear tone, and also adds higher overtones and harmonics which uniquely detail each note. Like our H-Expander truss rod, Resinator wood is a major contributor to the distinctive Hagstrom tone.
Click for info on shipping, taxes, returns, etc.
Shipping
We offer shipping in to the US and Canada. Each product should have its own shipping cost which will be calculated in your cart as you check out.  Some products are not available for shipping. Shipping times vary per product.
Pickup
You can purchase a product online and then pick it up at our store. You can come during our open hours, or you can schedule an appointment for pickup.
Returns
You can return any purchase if you notify us of the return within 7 days of purchase and have us the item back within 14 days of purchase. We do not pay for shipping to return the item. Upon receipt, we will inspect the item and determine if the condition has changed. If the condition has changed, the refund will be partial to reflect the change in value of the item.
Taxes
Purchases made in our store will have a retail sales tax of 7%. All products purchased on our website will be taxed according to the buyer's location. In-state sales will be taxed at their county-specific rates, and out-of-state purchases will not be taxed.
Layaway
The Local Pickup (TLP) offers layaway on sales of $400 or greater. Here are our layaway terms:
TLP requires a deposit from the buyer of one quarter (1/4) of the total sale cost (purchase price +5% layaway fee + taxes + shipping).
TLP establishes with the buyer a unique payment plan not to exceed 12 months in duration to pay the full amount due.
If a scheduled payment is seven business days late, TLP has the right to cancel the purchase.
If TLP cancels the purchase, TLP will refund any money paid by the buyer, except the deposit. The deposit is non refundable.
The buyer has the right to payoff the full amount and complete the purchase at any time.
The buyer has the right to make extra payments toward the amount due.
Once the purchase is completed (all due money paid in full), the guitar will be delivered either via shipping or scheduled pickup.
The Local Pickup is a guitar store in Rock Hill, SC - specializing in vintage and used guitars, as well as boutique brand clothing, and guitar gear and accessories.
Specs
Meticulously crafted semi-hollow bass with a short 30.75-inch scale.
Pickups: 2 x Dyna Rail – Viking® Bass N/B
Pickup Selector: 6-Way Rotary; Neck + Bridge, Single coil (Outer coils); Bridge, Single Coil (Outer Coil); Neck, Single Coil (Outer Coil); Neck + Bridge, Humbucking; Bridge, Humbucking; Neck, Humbucking
Controls: 2 x Volume / 2 x Tone
H-Expander® truss rod and Resinator® fingerboard, providing the ultimate in playing surface stability and optimal tonal enhancement.